What is this?
A web ring is a convenient system of linking together a group of similarly-themed sites in a circular fashion. The link on one member site leads to the next, and so on until you arrive back where you started. Different links can also take you backwards or to a random site in the ring with equal ease.
What is the point?
The goal here is to try to create a more visible Fragile X community on the web by increasing traffic to individual member sites. The more links one has to other related sites the more likely you are to be hit by search engine bots, cataloged and begin to show up in search results provided by those search engines.
What are the Requirements?
Your website must be related to Fragile X Syndrome. It doesn't have to be the only topic discussed but it must be a prominent aspect. You must display the navigation bar prominently on your website.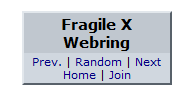 Do not copy the image above, it is just a sample.
When you sign up you will receive a code to use on your website.
The purpose is to allow people to move easily between related blogs, if they cannot locate the navigation bar it "breaks" the ring and websites that follow yours in the ring do not receive hits. Do not post the navigation bar in a blog post, it will scroll off the main page and no one will be able to locate it. It should be located in a sidebar, preferably.

Failure to display the navigation bar will result in your site being suspended.
How do I join?
If you have a website related to Fragile X Syndrome, you can easily request that your site be added by clicking the "Join Ring" link in the Control Panel, which is located in the right sidebar of the website. Select a username and password (alphanumerics only) for your account and then just fill out the form with your site information.
Once you've submitted your site you will receive an e-mail requesting that you confirm the e-mail address used to join the web ring. Please be sure to use an e-mail address that you will have access to because you need to confirm your address (by clicking on the link provided in the e-mail) before you can proceed to the next step.
You will then be provided a fragment of HTML code which contains and/or delivers the navigation bar for this ring. You will need to paste this code on your webpage at the URL you submitted with your application.
Once the navigation bar is active at your site, a ring administrator will review your application and, if found acceptable, will approve your site for membership.
I've joined this ring, now what?
If you've submitted a site, whether or not your site has been approved, you can log in to your account using the Control Panel. From here you can click "Edit Details" to bring up your personal member control panel where you can change almost any element of your account, and even remove your site from the ring altogether.
If your site has been approved, you can change your account status freely between Active and Hibernating. When your site is hibernating, clicks from the ring will not be directed to your site. Use this feature when you expect your site to be down or under construction, and don't want to break the ring.
The Orca Ringmaker also keeps detailed statistics which you can visit either by clicking the "Statistics" link in the Control Panel, or one of the small icons next to each Site Title on the Ring Hub. The icon links will reveal in-depth statistics about each site in the ring. Make sure you check them out to keep track of how your site is doing!
What are Hits & Clicks?
A "Hit" is recorded whenever a user arrives at a site because of a Ringmaker link. Arrivals via the Ring Hub links and from Navigation Bars on other member sites will all add Hits to your site totals.
A "Click" is recorded whenever a user leaves a member site via a Ringmaker link. Direct Clicks from the Ring Hub aren't recorded, only those from member Navigation Bars' "Next", "Previous" and "Random" links. Because of this, the Clicks totals are accurate reflections of how much the Ringmaker Navigation Bars are being used.
Essentially, total Hits are how many visitors a site is receiving because of ring membership, while total Clicks are how many visitors a site is generating for the rest of the ring,