***Commence Whining**
Last night Duhdee and I had to finish all those forms you get at an evaluation for a child with special needs. You know the ones that are for ages 5-21, please circle O – Not able, N – Never, S – Sometimes, A – Always, or whatever.
Here is the whine in two parts:
WHY do they seem to ask the same questions eight different ways?
WHY do they not have a smaller age range? Fine, I get that he should not be expected to be able to handle small home repair projects at this age but every time I have to check off NOT ABLE makes my heart hurt…it feels so negative.
***End Whining***
***Commence Heart Warming Story***
This morning Duhdee and Monkey drove me to work, I had to run back in the house to grab my wedding ring while they got in the truck. While I was inside I grabbed these bangles that I bought recently as well.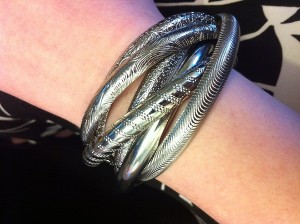 When I got in the truck Duhdee told me that when I stepped out the door Monkey said, "Woah!" Then he wanted to try on my bracelets, lol.
God I love that kid…
***End Heart Warming Story***