Grammy informed me that I never told them we went bowling with Monkey back in January, lol.  I guess that just proves I don't blog everything though it often feels like it!  I know I started a post at one point but it was really negative and it bummed me out.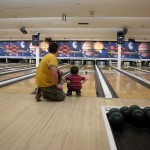 So, yeah, we went.  Bowling and bowling alleys are very stimulating.  There is a lot of noise and activity.  You have to wear shoes that are not your own.  You are not allowed to press all the buttons you want, in fact there are some buttons Umma and Duhdee will dive across the floor and startle the heck out of you to prevent you from pushing.  Repeatedly.
It wasn't a total disaster and when we left we were actually in pretty high spirits.  He did much better than we thought he'd do.  The first time he went he did not make it through an entire game.  He was able to do that this time so we were excited by the progress.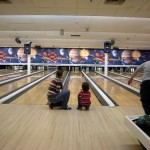 The problem arose after we were home and I watched the videos I took and I started thinking about how we appeared to others around us.  He was very whiny.  He was impulsive.  He needed constant attention and redirection.  He threw himself on the ground many times not in a tantrum but because he was so overstimulated.  It was exhausting for all of us but we still claim it as a victory because he did better than last time.  We'll keep trying.