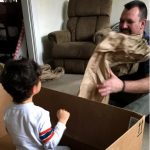 I disappeared for a while for lots of reasons. Some were good, some were not so good and there was one that is utterly amazing. I want to share the amazing reason with you now. I know lots of people have been waiting for this, it was worth the wait. Promise.
One of our biggest worries was that once we are gone, Caleb would be alone…we're not worried about that anymore.
Introducing….
He's as sweet as he looks, he's as much fun as you can imagine and we can't help but believe that he was made just for us. I'm so glad we can finally share him with everyone!
Love,
ACME