We've been rather busy this weekend!  On Saturday we took Monkey on a playdate with another little boy with FX who lives nearby.  The other little boy took a 4 hour nap ((I am SO jealous!)) so the adults sat and chatted while Monkey amused himself with all the toys.  It is so nice to sit and talk to people who speak our language 🙂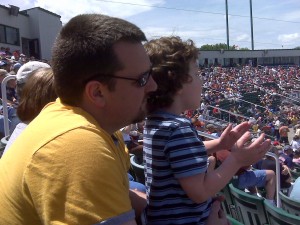 Today was spent in Maine.  We stopped to check on and water our garden up there, it's not doing so well but it was just an experiment.  After that we went to a Portland Sea Dogs game, which they won.  It was Monkey's first baseball game and he did great!  He did not use the seat we had for him but he was able to stay for the whole game.  He would pretend to pitch the ball and then clap…for Every.  Single.  Pitch.  The stadium erupted into cheers on a number of occasions.  The first few times really freaked him out but he calmed down as soon as the pitcher resumed pitching.  Towards the end of the game he hardly reacted to the screaming at all.  Whenever a run scored the crowd would stomp their feet on the metal floor of the stadium and it sounds like very LOUD thunder.  He totally loved that, even when we were under the stadium by the concessions.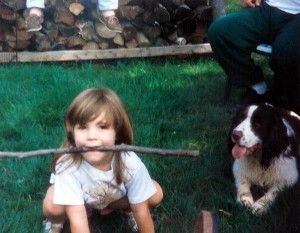 After THAT we went to my neice's graduation party which just seems so unbelievable…I'm not sure how that happened.  One second she's running around with a stick in her mouth, licking people because that's what puppies do, duh, and the next she's all dressed up and dancing at her graduation party.  Scary.  Monkey and Duhdee were pretty much beat by this time but I had fun.  We tend to be a loud and rather rambunctious crew, we left hours ago and I still keep randomly cracking up over the smart @ss comments and insults that were flying.  I love my family.
Now, sunburnt and exhausted, I am headed for bed.  Duhdee is already calling me "lobster," I can just imagine what I will look like tomorrow…and the sunblock was sitting by my feet the entire time.  D'oh!