Dear Monkey,
I've been sitting here and staring at this blank screen watching the cursor blink for a long time, much longer than I expected. So many times I sit to write about you and the words flow like magic from my fingers, not because I have any particular magic but because you do. I'm having trouble today finding the right words to convey what's in my head and my heart.
When people describe you, "soft" is one of the most commonly used words…soft curls, soft brown eyes, soft skin, soft heart. Everything about you brings out the protective instincts in those around you and sometimes I know we baby you too much because of it but you're so patient with us.
There is also a quiet strength that I think a lot of people miss. When someone hurts you, intentionally or not, I've seen you take a breath and look to either Honey or I as you try to figure out how to feel about it. There have been times when I've thought, "Smack him…don't take that!" but you always forgive them. You shake it off and give them another chance to do better, to be better. I wish I knew how you did that.
You have a way of making the most average of days fun. When I'm with you it's hard to take my eyes off you. I find myself watching you…waiting for that mischievous twinkle in your eye that signals things are about to get hilarious. Even when I'm completely wrapped up in you though, watching you, you can still do or say something so unexpected that I'm taken by surprise by my own laughter. The pure joy that I see on your face when you make me laugh makes me feel like I'm the center of the universe.
You also can see right through people…right to the core of who they are. If you like someone I know, without a doubt, they are a good person. There have been times I've watched you interact with someone and I think, "Really? This one?" but it's only because I let myself get hung up sometimes on how a person looks or talks or dresses. It only takes you a few minutes to bring out whatever it was you saw in them, a sense of humor or patience or kindness, and let everyone else see it too. Last week you took a picture of Daddy and I that left me speechless. This photo did for me what I've watched you do to others over and over and over…it shows the essence of us…our love of you. If this is what you see when you look at us then I know we're doing alright by you.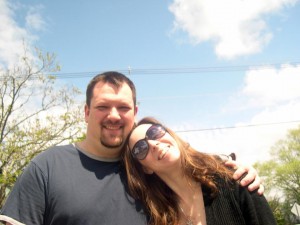 Love you always,
Money