I must have blogger's block.  I keep waiting for the perfect topic to pop into my head but it doesn't seem to be happening.  I guess I have to get through this the old fashioned way…ugh.
Monkey's birthday is rapidly approaching and I've had no luck convincing him that he wants to have a party.  Seriously, what kid doesn't want a party??  This past Saturday I finally stopped trying to convince him and just forced him to pick a theme…I am so mean.  Too bad kid, lol.
So we're having a Toy Story party…errr…no, we're having a visit at Grammy & Grampa J.'s house with cake…and a Toy Story theme.  There will be NO partying, you got that people?? 
He did manage to find 2 things at the party store that were cool.  Not anything Duhdee or I suggested, he had to find them on his own.  Geeze! 
So, what goodies did he find?  He found a "bag."  He carries it over his shoulder the same way I carry my purse: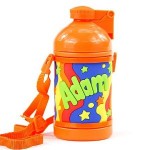 His is blue…and has his name on it…not Adam. 
And this…it was his very first experience with one and he liked it. A lot.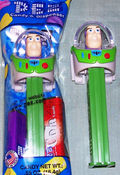 OK, that was fairly painless… 🙂