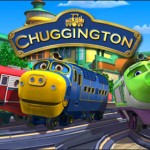 Trains are not a new obsession for Monkey.  He loves them, he's always loved them and, I suspect, he always will.  A couple weeks ago, while we were at Children's Hospital, we saw an ad for a new train related cartoon on Playhouse Disney called Chuggington.  We may be way behind the curve on this one since we only watch shows that we DVR and we have a program that automatically skips commercials but it was the first I'd heard of it.  I suggested to Duhdee that he set that show up to record, just to see.
It's designed for preschoolers and it, apparently, nails the target audience perfectly.  Monkey is obsessed.  When he's allowed to watch TV he now only requests "trains?"  So much for my beloved Penguins *pout.*
Last night, I gave Monkey his melatonin and he requested the trains…again.  I put it on thinking 10 minutes at most and he'd be running for bed.  He very consistently puts himself to bed at 7:30 despite any distractions like guests or games.  It seems that the trains are exempt.  I waited patiently for him to declare, "Ummai, ready! Bed." 10, 15 and then 20 minutes passed and he was still up.  I asked him if it was time for bed.
"No!"
OK, then.  45 minutes after his normal bedtime, I asked him again and received the same response though it was followed by a yawn.  I decided I'd have to force the issue, so I turned the TV off and told him it was bedtime.  He ran willingly into his room and asked for his PJs and socks.  Duhdee came in for his hug and kiss.  As I was tucking him in, I whispered, "Sweet dreams."  Normally he responds "dreams."  I thought that is what he said but it was a little muffled so I asked him to repeat himself.
"Trains?"
Ha, no.  Bedtime.  I started to tell him he could watch the trains when he woke up tomorrow but then visions of Monkey standing by my bed at 3 AM asking for "trains?" flashed through my head.  Instead, I told him that he could watch the trains again after he had breakfast.  Tricky Umma.
This morning at 8 AM (!!!) he woke me up and asked for breakfast.  Can you guess what  the first word out of his mouth after he washed his hands was?  I'm really, really glad I told him after breakfast…