We visited with the oncologist today and it seems that there's more going on here than we had been told.
Copper's white blood count really impressed her, she hasn't ever seen it get so high before. He is an overachiever there. His liver and kidney values are a little wonky but she thinks he can handle the potential treatment options. His pancreas numbers were off and his urine sample was off too.  Basically, he's an old dog with cancer and maybe more. Wouldn't that just be ducky?
We still aren't certain which type of cancer it is. Either I misheard or my vet wasn't clear but it's still possibly sarcoma. It will take up to 2 weeks for the additional tests to come back. Regardless, this is an aggressive cancer and it is widespread in his mouth.
We were given a bunch of different options ranging from surgery to remove up to 1/2 his lower jaw to simple pain management with a few other possibilities in between. We have eliminated the surgery, it's too much for a dog his age. I can't put him through that. We've also eliminated the simple pain management. I want more than a couple weeks to possibly 2 (messy, uncomfortable) months if I can get it.
SO, the plan, the plan, the plan. What is the plan?
Copper is having his WBC checked again to be sure it's dropping after a week and a half on the antibiotics. If not, we have even bigger problems than we thought.
Copper is having an abdominal ultrasound to check for a possible bladder tumor.
Copper is having his lymph nodes aspirated to be sure the cancer hasn't spread. They feel OK but this is the only way to know for sure.
Copper will stay on his pain medication, his antibiotics and we'll add an anti-inflammatory.
Copper will begin radiation next week.
Beyond that it's just a bunch of "If"s.
None of what we are planning, though, is a cure. This is not fixable. We can keep him comfortable, we can buy him some time…maybe enough time for something *else* to get him. She is hoping we can get another 4-8 months. I'm holding out hope that I'll see him become a 17 year old dog…
I added another book to our library of pain, I really like this one.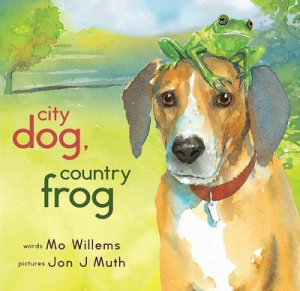 In spring, when City Dog runs free in the country for the first time, he spots Country Frog sitting on a rock, waiting for a friend. "You'll do," Frog says, and together they play Country Frog games. In summer, they meet again and play City Dog games. Through the seasons, whenever City Dog visits the country he runs straight for Country Frog's rock. In winter, things change for City Dog and Country Frog. Come spring, friendship blooms again, a little different this time.
It's about the loss of a friend and finding a new one.  It's for Ages 3 and up. It made me cry. Everything makes me cry right now though.