Somehow March is over and I've still not shared much about that trip to DC. Part of it is that whole black seed of misery thing and part of it is that I have told the stories so many times it feels like everyone in this state and maybe a few others have heard them already. For those of you who have not been subjected to the repeated stories already…
The trip to DC was awesome. Caleb spread his glitter through the hotel, the Metro, various restaurants, museums and, of course, the halls of Congress. It was an amazing trip…
Caleb reminded us that airport security is not for people like him. You know, rock stars don't stand in lines. It was not a long line, but that does.not.matter. By the time we got through the security area I was reminding Eric about that pact we made LAST TIME we flew to not ever do that again. We renewed that pact.
When we landed in DC, Caleb immediately stood up, clapped his hands and cheered, "Nice flying! Nice flying!" which the crew seemed to appreciate. Then he asked, "Go again?" Can we at least make it to the gate before we start thinking about leaving, please?
Caleb looooooved the hotel. He said, "Nice room!" every time we returned to the room.
We had to teach Caleb how to use the key card and how to find the hotel room in case we got separated. I was 90% sure we were going to lose him at least once in an elevator. (We didn't! At least not on the elevator. I might have misplaced him in the lobby a time or two. Shh.)
DC uses 4 wheeled vehicles with plows and men with shovels during "Snowmageddon." They save the plows for…I'm still not entirely sure what they saved the plows for. Definitely not for plowing the roads, that was obvious.
The Metro is clean and easy to use. Caleb approved. Eric had a little trouble mastering the ticket situation. My tip for DC travel…just buy a one day pass. Srsly.
We visited the Natural History Museum and the Air & Space Museum. Of all the countless treasures we saw, true to form…Caleb's favorite part of the museums were the elevators.
There might possibly be an elevator out of service at the National Air & Space Museum. I have no idea how that happened.
The trip didn't really start for Caleb until Holly arrived. In fact, she was Caleb's favorite part of DC 3 hours before she even got there. My little man has amazing taste.
Caleb has mastered the art of scoring free desserts. He doesn't share.
Caleb has mastered the art of taking selfies with strangers. Cool strangers, at least.
Caleb is not allowed to eat scrambled eggs ever, ever, ever again. (Thanks to the FX parents who cleaned *that* up for me. Gross.)
Caleb can shake hands & fist bump all day long.
With access to YouTube & DieselDucy, Caleb can attend a 4 hour training session.
With access to YouTube, Caleb can repeatedly interrupt a 4 hour training session with his belly laughs. DieselDucy has a really funny laugh. Apparently.
Caleb got to ride on his very first party bus. Yep, really…that was our ride to the Capitol.
Caleb did a frog impression on the floor of the House of Representatives…surely not the most ridiculous thing to ever happen there.
Caleb very wisely elected NOT to throw a snowball at his new friend, Representative Gregg Harper (R-MS)
Caleb made it through an ENTIRE DAY of shaking hands, passing out business cards and charming the socks off everyone he met.
Caleb was very happy to go home after 5 long days.
When we landed in Boston, Caleb stood up, looked around at the other passengers and instructed them, "Clap!" He has no patience for those who don't appreciate the joys of air travel.
When we left the airport and began driving home, Caleb began giving us directions…to return to "Terliddle B." Which would be where we had picked up Holly on Monday afternoon. He was unimpressed that we didn't bring her home with us.
It took the next week for Eric and I to recover. As amazing as the trip was, it was 100 times more exhausting with Caleb along. We knew already that we'd take him again but then we Caleb received this…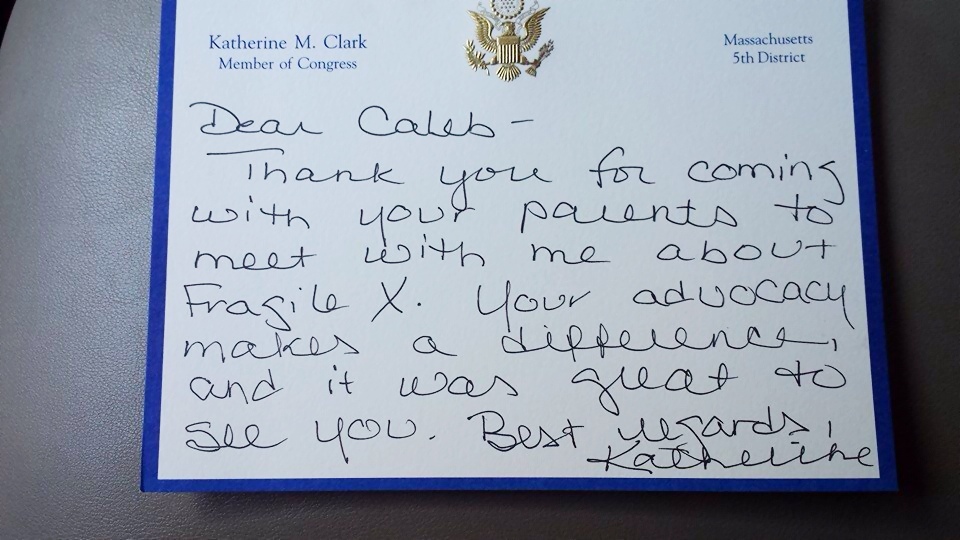 What? We've been going for years…Caleb has been once…and he gets the handwritten letter from the Congresswoman. Nice. I'm not at all jealous! I sent this picture to Caleb's teacher and, last Friday, she told me that Caleb had written a letter back to Congresswoman Clark.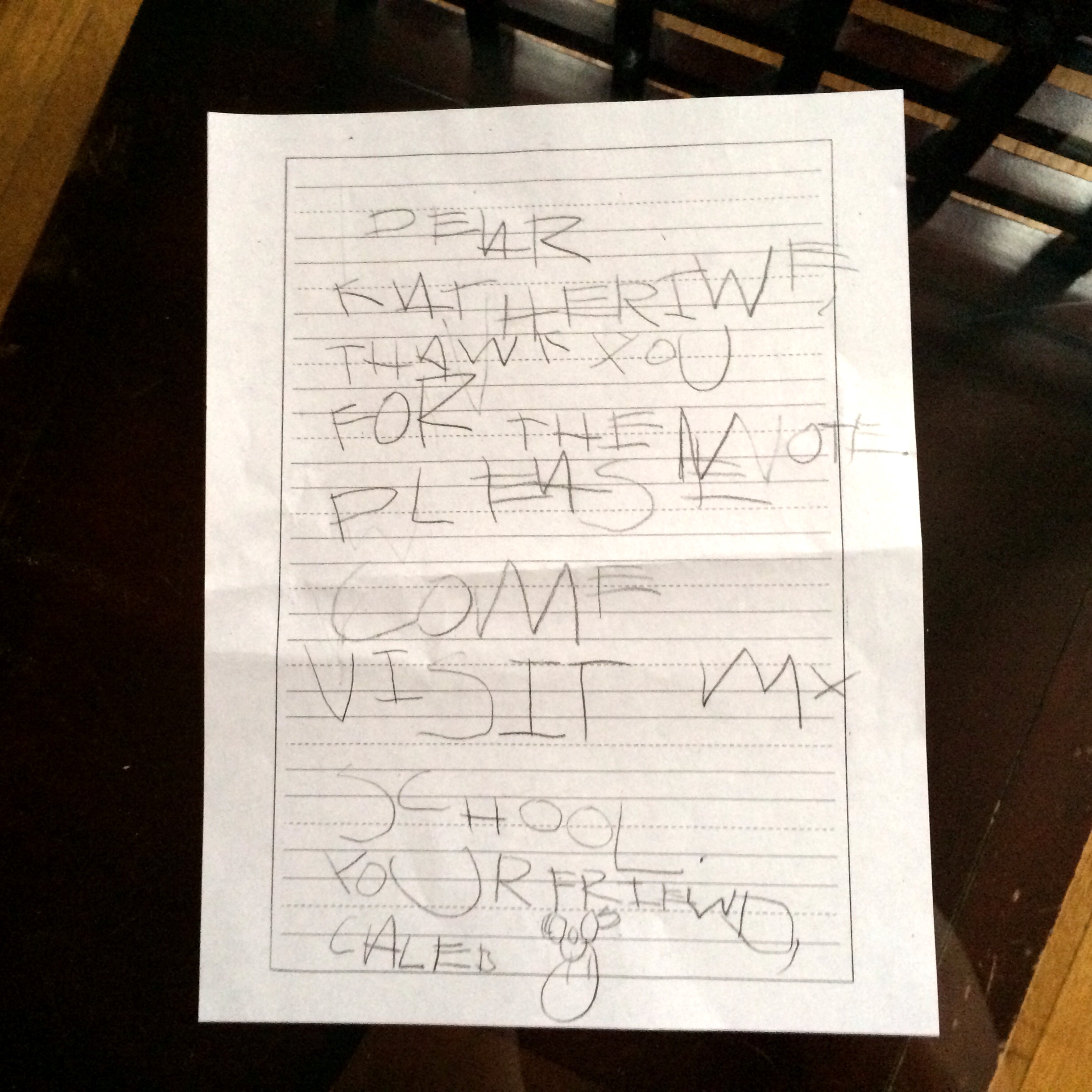 In case you can't read it, it says:
Dear Katherine,

Thank you for the note. Please come visit my school.

Your friend,

Caleb (I think that's a picture of a dog next to his name…)
I'll let you know when she comes to visit…there is no way she says no, right?