Remember way back in March when I mentioned the book My Very Own Name?  After I posted I decided to e-mail the company, just to plant a seed about perhaps offering the My Very Own ABC's book in a format other than a board book.  I explained a little bit about Monkey and the fact that he's really outgrown the board books, he prefers the big boy versions.
I received a very nice and very prompt reply from Customer Service that they infact only publish that book as a board book.  Exactly the response I expected but it was personal and not a form response which I greatly appreciated.  Shortly after receiving that response I received another from someone else at the company.  He too has a son with special needs and he took it upon himself to ask the author and the illustrator if they would allow him to have a special version of the book done just for Monkey.
They said yes.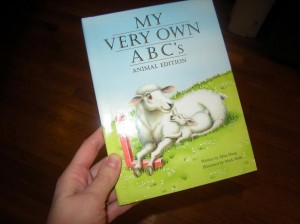 I cried when I saw it.  Sometimes life with a special needs kid is hard.  Sometimes people look at you and judge you.  Sometimes people look at you and pity you.  Sometimes special people do amazing things for special kids.
I can't tell you how touched I was that this company went out of their way to create not one but TWO of these very special books and sent them to us, gratis.  One has been put up as a keepsake, the other is opening up the world of letters for one very lucky little boy.