This morning as we were walking out the door to go to school, Caleb grabbed a green beach ball to bring with him. He will often grab a toy (or a bucket of toys) on his way out the door…he's the king of picking his own transition items! Normally he will take whatever item(s) he has picked to the truck and then forget about them. This morning didn't seem to be much different, he threw the ball into the truck, settled himself in his seat, belted himself in and we were off.
Mommy got engrossed with something1 on Facebook (Oh, nos! Call CPS, Mommy ignored her precious baby (and husband) this morning for 30 straight minutes!)23 on the drive over and, despite it being a Monday, Caleb was not displaying any unusual anxiety. That's what I call a good Monday!
When we arrived at school I heard Eric tell Caleb to "step over," he had to go over the ball (and my lunch) on his way out of the truck. Instead of stepping over, he grabbed the beach ball and took off for class…no, seriously, took off! See?!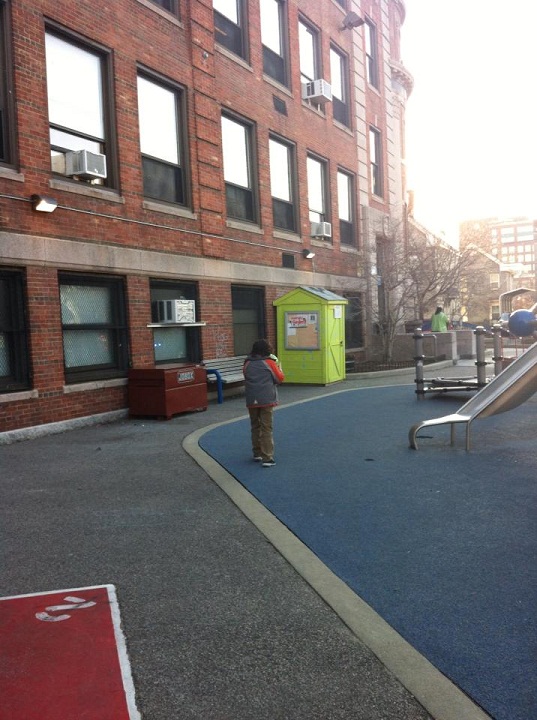 Amazing.
He ran to class, only pausing briefly on the stairs because Money had fallen behind while taking a million photos of the whole event. When he walked through the door ALL ON HIS OWN…SEE?!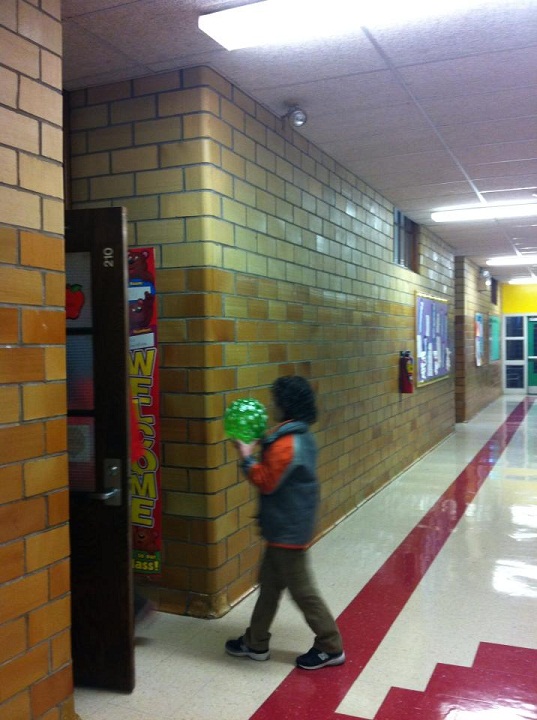 His teacher said excitedly, "Oh, for me? We needed a St. Patrick's Day ball!"
I then told her that the ball was one of the props from the Harlem Shake video we had done. After a moment of silence she said, "You did a…"
"Yep, when we were in D.C. we did a Harlem Shake video during training."
After asking me to send her a link she said, looking at the assistant, "That might explain it." and they both cracked up.
Apparently Caleb's general education teacher demonstrated the Harlem Shake (and is a very good dancer) to the class and Caleb, who normally falls to the floor when they do something so crazy, IMITATED HER MOVES. And…since he was so into it…they have been playing the song in the smaller classroom and he's been DANCING. Yes, they have video…they're putting "something" together. OMG, I'm so excited to see my kid dance! I will totally share it as soon as I see it…in the meantime…if you haven't seen the NFXF Harlem Shake as performed by the AWESOME FX advocates in DC…you gotta check this out…
Reminder to self, this is blog worthy…not the bit about me being on FB but the "something" I was engrossed in. [↩]
Reminder to self, this is also blog worthy if I ever get so fucking bored with my own life that I decide I'm going to enter the Mommy Wars and spend my time judging how other people parent, as if I could get that lucky. [↩]
Woah, is this an opinion coming on? Looks like it! Fuck the Mommy Wars, just parent your own kids. End of opinion. [↩]