I'm leaving bright and shiny early tomorrow. I'll be up before the sun, heck, I'll be in the air before the sun rises. I shall wing my way across the country and meet up with the incomparable Holly Roos. Then we shall fling ourselves northward to the open arms of Karen Helm ((Hahaha, totally kidding, I know how to spell your name Karen Kelm, I promise!)) and Talitha Humphrey. If you aren't friends with those three ladies, you really should be. They're amazing and I am so thrilled to be going away for my first ever Mommy's weekend with them.
Between the four of us we will be representing 3 Fragile X groups, how cool is that? Being four moms who are all active or becoming active in the Fragile X world we could not possibly do a weekend away without a logo.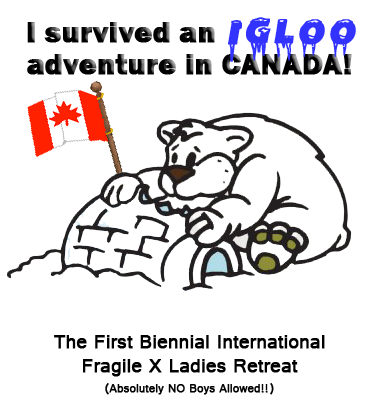 If I do, in fact, survive. I shall have tales to tell. Of course, I will have to leave out the drunken bits. Hopefully there will be something left to tell!