The ladies were trying to get me to blog last night but I was too busy nearly peeing my pants. This is just an inevitable occurrence when you take four moms and introduce much hilarity ((And how freaking ironic would it be for us to "get away from it all" only to still find ourselves cleaning up an accident???)).
I wish I had amazing images of the gorgeous mountain scenery and maybe a few shots of us posing like grown-ass adults in front of historically significant monuments but I feel that it is my duty to let you know that you will, very likely, never see such a thing here. Sorry. It turns out that when you take THESE four moms and put them in a beautiful cabin in the mountains, all you get are pornographic snowmen and attempts to stuff people into suitcases. Who knew that getting away from it all would bring out our inner frat boy?
On the serious side, we have all cried too. How can there be no tears when you get four moms of special needs kids together to share their stories and support each other? What is so amazing about it though is that they've all been tears of gratitude. These women understand me on a level that is bone deep. They GET IT, they have walked in my shoes. Sometimes they've done it better than me and sometimes worse. We can share the stories that we carry in the dark recesses of our minds and feel…understood and accepted. It turns out that those stories lose a little bit of their power every time you drag them out into the open…every time you give someone the opportunity to validate how awful it was and let them lift a bit of that burden off your shoulders.
I think it's important to remember that no one of us is free of the emotional turmoil that comes gratis ((Gee, thanks for that freebie!)) on this journey. No one of us has all the answers. No one of us has always handled everything perfectly. We are all the perfectly imperfect parents of some amazing kids. Whatever we do, whatever struggles we power through, whatever obstacles we seem to leap over in a single bound…is for these kids we love with every fiber of our beings.
We are all members of an exclusive sorority. A sorority of fear, grief, guilt, failure (both big and small), success (this only comes in epicly huge with our kids), joy, gratitude, awe, inspiration and love. I so needed to be here for this…
Cwap, that got way deeper than I intended.
Oh, look…I DO have a picture of one of the gorgeous mountains surrounding us!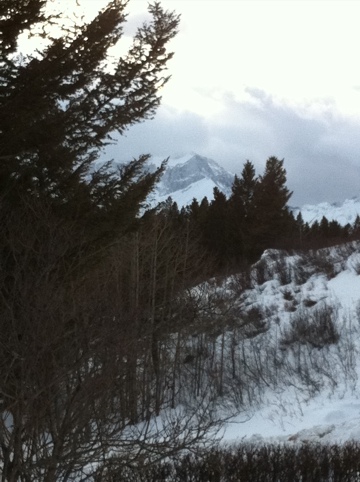 I took a snowball to the back of the skull for this one, you're welcome.