I was telling a friend of mine some Monkey stories yesterday and she advised me that we should just follow the boy around with a video camera so we could share the cuteness. She is a wise woman. I wish it were possible, I would do it in a heartbeat if I didn't have to, you know, work.
Speaking of work. The new job is responsible for the lack of posts these days. I love it, the work is challenging and actually makes a real difference to my clients. It's not endless busy work that was made up to satisfy a client that can never be satisfied. It's amazing. I no longer hate going to work everyday…just some days…but that's normal…I think. Anyway, the result of all this challenging, meaningful work is that I have so much less time for sharing all the awesome things my Monkey says and does! For that, I apologize.
OK, enough about me! No one comes here to read about my exciting life as a paralegal! Moving on now…
We are big, big Christmas people. We started decorating the day after Thanksgiving and, as of Sunday, I think we're finished ((This is assuming I don't see anymore Christmas decorations that I just MUST have. Sometimes that happens. Actually, that happens a lot soooo we're probably not done but let's just not tell Duhdee or he'll take away my debit card!)).  Everything will stay up until New Year's Day unless our tree decides to shrivel up into a pile of twigs and needles ((Please don't do that!)).
Since we have been decorating we've been talking lights and ornaments and trees but we haven't talked a lot about Santa yet. Monkey has been filling in that gap for us. There is a Santa that my amazing mother-in-law gave us that Monkey had, in the past, eyed rather suspiciously. You see Santa has this big fuzzy beard and, wait…let's throw in a visual.
Here he is: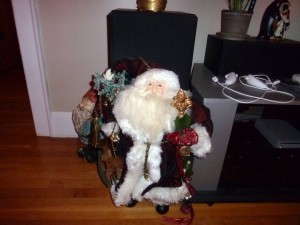 So, with Monkey's sensory issues, you can see why this guy might be eyed suspiciously. I mean, that beard could jump out and touch him at any second! This was not Monkey's favorite decoration but this year he's warmed up to the big guy! First, he started out saying, "Hi, Santa! Hi!" every morning…he still does this. Then he started sometimes yelling out "Hi, Santa!" from other rooms. He's just a friendly kid that way.  Last night he walked by Santa and said "High five, Santa" and he TOUCHED Santa! He high fived him. Unreal.
Ugh! I'm out of time…now I feel like a tease promising a cuteness dump and only getting ONE of the four cute stories from the last 3 days out. Next time, less talky, more bullet points!