There are so many things I wouldn't have known if I didn't have my little Monkey to show me. One of those is this, I love trains. I never knew that until I had a train obsessed, little man in my life and I might have never known it if I'd gotten that little girl I had hoped for.
Monkey loves all things about trains.  Our obsession started with Thomas and wooden train sets.  Before we got too far into that scene, however, we discovered motorized trains and we've never looked back.  It seems like a natural progression to move from little motorized trains to bigger motorized trains.  Duhdee has some schemes for a large train table and display for our basement sometime down the road but right now that's a little too advanced.
Besides, now that Monkey has been on the real deal, he's a little less enamored of the toys. He prefers watching YouTube clips of subway trains "Here comes!" and, whenever possible, riding on those same subways.  We've spent more than one afternoon altering our plans so that we could ride a train.  Sometimes we make plans solely based on the fact that we will go there by train!
It's no hardship though because I really, really, really like trains!  I ride the subway 5 days a week and that is not much fun but experiencing it with Monkey is a whole different matter.  We've also made an effort to take him on various "tourist" railways to experience what a real, old fashioned train ride is like.  We've toured cranberry bogs in southeastern Massachusetts, shady woods in Maine, New Hampshire lake shores and, most recently, the Berkshire Mountains.  Every time we do this the stress of everyday life just falls away and the 3 of us (and sometimes a few guests!) can sit back and just grin at each other like fools as the scenery slips past.
I've decided something, and this is the first that Duhdee is hearing of this, I'm going to come up with my own "Bucket List" that involves all the amazing railroads I want to travel on. 
And, I'm thinking big…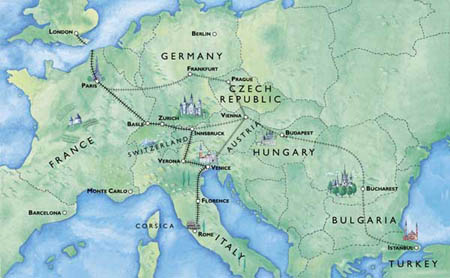 Really big…