I've such a hard life.  This week has been quite busy and a little stressful because we are currently stuck in the middle of two vacations.  I know, poor, pitiful me.
We had such a nice time while on vacation in the mountains.  None of us really wanted to leave.  The last morning my dad even said, "Oh, let me check my Powerball ticket to see if you have to go!"  Unfortunately, we did.  This week has been a lot of running around, mostly by Duhdee.  We needed groceries, but not too many.  Grampy had a doctor's appointment.  The truck had a doctor's appointment.  We needed to hire a pet sitter ((I know but I have reasons beyond procrastination for putting this off!  1.  The eldest was sick prior to vacation and we didn't know if he had a UTI that didn't show on vet tests or if he was experiencing kidney failure (he's early stage) and so we didn't know WHAT type of care he'd need.  And  2.  OK, I just had the one but it was a good one!)).  Then, at work, we're in the middle of a bunch of big projects and they're moving my office from my temporary location to my new permanent one which meant lots of work and packing in the "spare" moments.  Ugh.  I was so glad to get home yesterday for cocktails!
Now our focus has shifted to preparing for vacation number TWO in lovely Dearborn/Detroit, Michigan!  I'm super excited and, also, ready to throw up.  I can't wait to meet all of the other parents at the conference and I've been through the agenda several times highlighting the sessions I must attend.  Now I just need to figure out how to be at 4 places all at the same time ((Any physicists in the house?  I could use a little help on this one.)).
So, why do I want to throw up?  I've never left my son for a week…I'm terrified.  He's going to have a GREAT time with Grammy, Grampa, Auntie and their dogs but OMG.  We're going to install Skype for my parents, it's the only thing that's kept me from hiding under the bed with the dog.  *Sigh*
It will be fine.  No, it will be great.  I will learn a lot and have so much fun connecting with other people who walk the walk too. But if you see someone in the hotel on Tuesday looking a little wild-eyed and snapping at her long suffering husband, well, hey, you'll know it's ME at least
I'm sure I'll be fine after a visit to Archimedes.  I've already scoped out a table…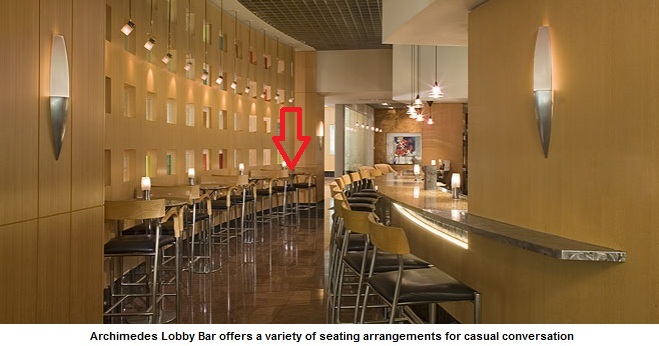 If you're coming, see you there ((And by "there" I don't just mean that table at the bar.  I'm sure I'll spend some time at the pool and oh, hey, maybe in one or two of those amazing sessions they have planned!  But you're more than welcomed to join us at the table too! ))!!!!  And if you're not…bugger
.  Next time?