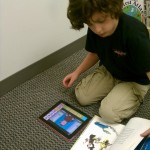 If you want to know how Week 1 and Week 2 went, check out those links.
I wish I had something amazing to say about our study experience but so far…we are just not seeing any major changes here. As much as I tried to prepare myself for the possibility of getting the placebo, I was really, really, really hoping for something else. As much as I am reminding myself that we very possibly might be on the placebo a new fear is creeping in…
What if he's getting the full dose, and it doesn't work for him?
Of all the possibilities that I ran through in my head, I knew that this was one of them. But knowing it and knowing it are very different once you've left the land of "what if" and are standing smack dab in the middle of "what is."
Not all of the boys on the study have improved on this drug. We knew that from the stories people had shared and we knew it from the researchers and FX experts we've seen. This drug is doing amazing things for some of the kids participating on the trial but no one ever, ever, ever said this would be the cure…that this would fix it.
As a parent, I want nothing more than for someone "in the know" to give me some guarantees but they can't. In all likelihood, this will help some but not all. In all likelihood, we're still looking at a combination of drugs to fix what our one little broken gene has done. It's supremely frustrating.
I keep reminding myself to be patient, that we are less than 2 months away from knowing for sure what the outcome will be on this particular drug. That whispering voice is becoming more and more distracting though. I find myself gazing out the window lost in thought trying to remember what it was like before. I find myself watching Monkey's every move trying to decide if he's doing more or less of that particular behavior. It's enough to make a Mama crazy, and this Mama really didn't need any help in that department!
51 more days. We've got this.