We hear about "the Boys" quite frequently. "Well done, boys!" "High five, boys!" are common phrases around here. "The Boys" are, of course, The Penguins of Madagascar. Caleb thinks they are just the coolest. Other than his unfortunate habit of imitating Rico as he regurgitates whatever tools might be needed, like bombs or a flamethrower *ahem* there isn't any reason to discourage his love of them. Heck, I've picked up a few new swear words too, "Bouillabaisse!" and "Smoked salmon!" are my current favorites.
Anyway, Caleb will frequently find 4 identical objects and begin pretending they are "the Boys." Today he has pretended that marbles and water bottles are the Boys and he's been lining them up in various locations. Mommy just snagged the bottles and dressed them up a bit.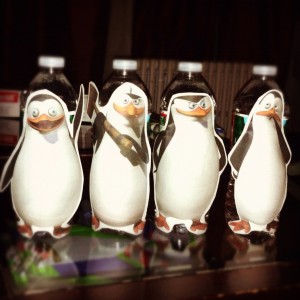 I think these Boys will be hanging around a while. After hearing them hit the floor earlier,  I probably should have used empty ones. Bouillabaisse!