I decided to redo our bedroom closet.  I blame the 2010 Ikea catalog.  Ever since it arrived I've been paging through it and thinking which led me to browsing the website and even more thinking. All that thinking led me to suggest an Ikea trip on Friday even though I knew it was the very last place on earth we should be taking Monkey that day.  I did not buy a single thing (for the closet) but the damage was done…all that thinking had led to ideas.
Here is a picture of our closet.  Please take a moment to prepare yourself for the horror.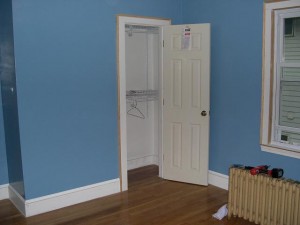 That is the ONLY closet in our bedroom.  It is 47″ wide, 19″ deep and 97.5″ tall.  Monkey's room has two closets of this approximate size and then there is the linen closet in the hall.  That's it folks.  Old houses have c-r-a-p for closets!  And this picture is the improved version.  When we started there was just one single rod in that closet, we added the shelves/rods you see here…and that lower shelf?  It ends right there only 1/2 way across the closet.  Oh, and, above the top shelf?  About 2 feet of totally empty space.
So using all my ideas I spent several quality hours with a tape measure and graph paper trying to figure out some sort of better solution.  Because the closet is so shallow (just barely wide enough for hangers) none of the traditional solutions would fit. 
When it was all said and done we moved the top shelf all the way up by the ceiling.  Since Duhdee is tall he can easily reach that rod.  We'll hang his shorter hanging stuff up there and our long hanging stuff will be to the right (we don't have much!)  As close to the bottom as we could manage, we put in another shelf and rod that goes the full length of the closet.  The long hanging stuff will come just to the top of that bottom shelf.  More shorter hanging stuff will be on that lower rod.  All that unused space at the top will now be between Duhdee's short hanging stuff and that bottom shelf.  We can put some storage boxes there for additional storage and we gained an extra 21″ of hanging space too.  That's the best we can do since we cannot enlarge it in any way.
Of course, not a single Ikea idea was used but I still blame the catalog!
This is just the first step in our bedroom make-over. Then we'll paint the walls.  Take another look at that picture above…do you see that whitish area on the wall to the very left?  That's a REFLECTION.  Great Grampy insisted we use high gloss paint.  You can see your REFLECTION in our walls.  That, coupled with the blue, means that room feels as warm and cozy as an ice cube.  We've wanted to repaint pretty much since it dried but we ran out of time and had to move on to other rooms so we could move in.
I guess technically the next step is redoing the wiring so it is 1. up to code and 2. so "we" can install a flat screen and media center which will allow me to lounge in bed watching all my DVR'd shows while Duhdee feeds me peeled grapes (a girl can dream, right?) but that's not my job.  Duhdee is on his own for that.  I'd electrocute myself and probably burn the house down to boot.  *Shrug* No one is perfect.