We've borrowed  one of these: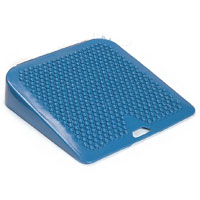 from Monkey's classroom to see if it helps us with the overstuffing issue.  It mimics an exercise ball but it's much more compact.  He absolutely loves it and carries it with him everywhere.  I don't know yet if it will do anything to help with the eating issue but it makes him WANT to sit.  This boy never sits, except to use the computer, and now he's running around asking for a seat.  He even just moved a dining room chair into our living room so he could use it.  He keeps calling it "Dawit's seat" I wonder if he ever uses it at school himself…may be something to try there as well, if not.
And, holy moly, he just said a new sentance!  "I want to sit there."  Nice!