Christmas is my most favorite time of the year. It's the one holiday that Caleb really and truly gets excited about. He loves every part of it and begins lobbying for a new Christmas tree almost immediately after we take ours down. Fortunately he asks very rarely until we get to about October, but then the gloves come off and we discuss the Christmas tree weekly…at least.
We began the Elf on the Shelf tradition in 2011. I was one of those people who thought that the elves were creepy. Caleb has a great deal of anxiety so I thought having an elf MOVING AROUND HIS HOUSE while he was sleeping would scare him. Also, who has TIME for that? Am I right?
I wrote about my conversion here: Save by an Elf. The short version is…I found out our old dog was dying. I needed something to keep my brain from obsessing over the fact that we were celebrating our last Christmas with my heart dog. So, with the encouragement of my BFF Holly (It's who I am), I grabbed an elf off the shelf and I have not let go since. Luckily, Caleb has been a huge fan as well. My fear over his reaction was completely unfounded, he is an amazing young boy and he totally recognized magic when he saw it.
So, if you are one of the elf moms and spend nights searching for new and fun ideas for the elf/elves on your shelves…I present the 2013 Adventures of Sneaky and Mayonnaise (Caleb named them himself!)
A week before Sneaky returned he sent a special delivery elf with a calendar to help Caleb countdown to his arrival and then Santa's arrival.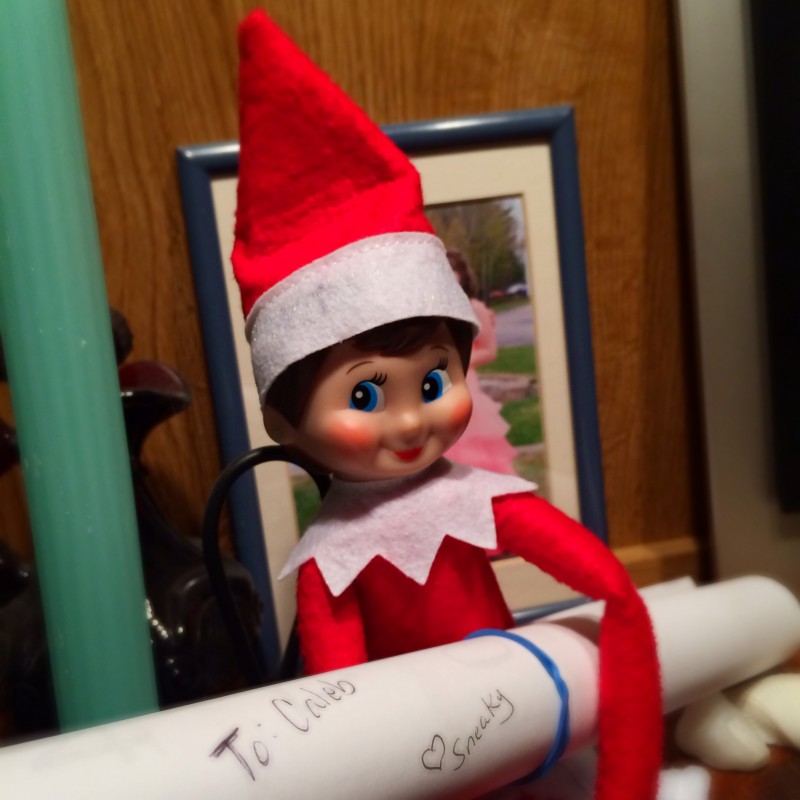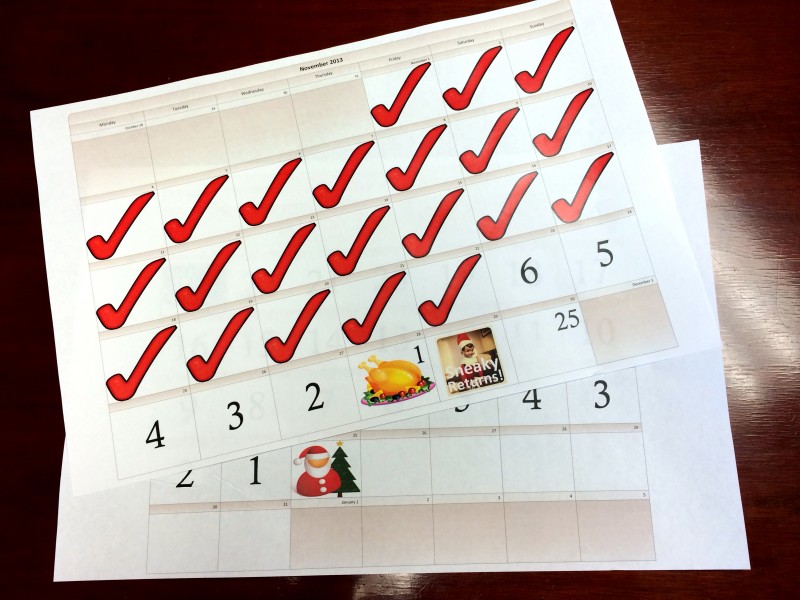 Night 1: Sneaky shared his vacation photos. Sneaky and his friend, the special delivery elf, took selfies which meant using Photoshop but you can just do photos of places they visited without them in it. Caleb was really excited to see that Sneaky had been in our city, to places he recognized!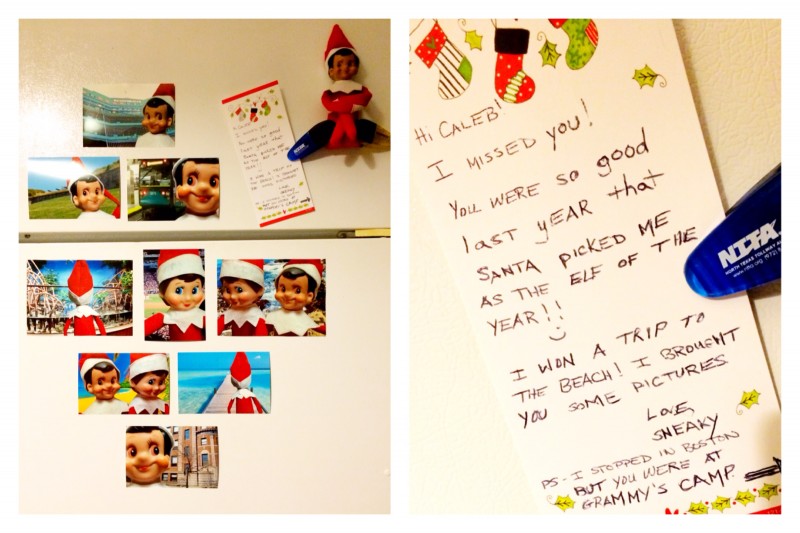 Night 2: This was Thanksgiving night, we were away from home so we needed to do something easy because I had no idea what I'd have to work with. Sneaky decorated one of Grammy's plants to look like a Christmas tree. We made simple paper chains and some easy paper ornaments (Modern paper ornaments).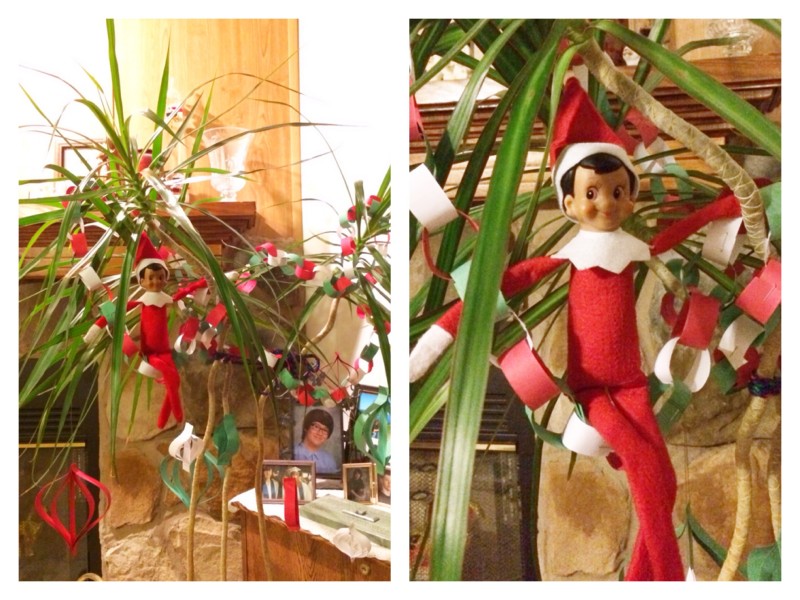 Night 3: We were back home. I'm a huge fan of Christmas trees and I had picked up one at Target the week before. Sneaky moved Caleb's desk to clear the space for our Christmas tree and set up this new tree in that spot. We had already planned to go out to cut our real tree down so this was pretty helpful.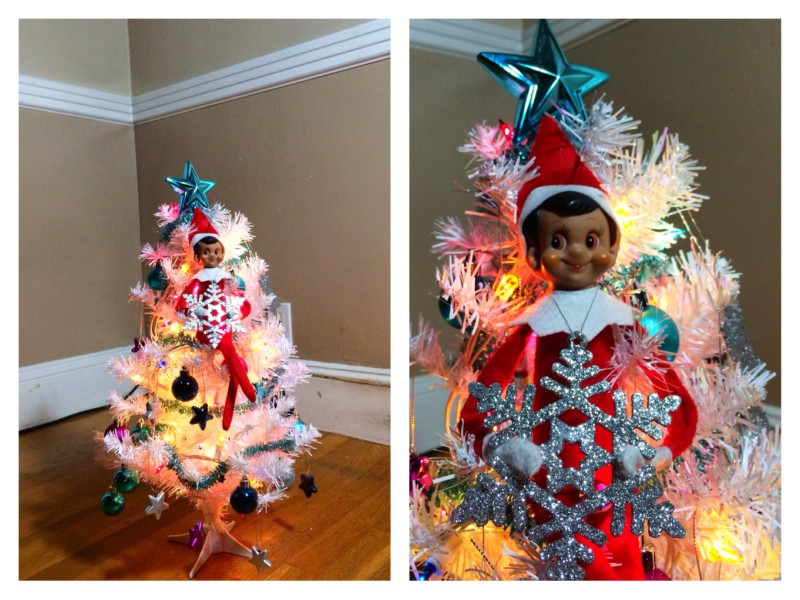 Night 4: Sneaky pulled down all the drapes in the living room and dining rooms! These last two are perfect examples of how I prefer to set up our elf mischief. These are things (moving furniture and taking down drapes to switch them for seasonal ones) that I would have done anyway and they were done at the times I would have done them…the elf just got to take credit.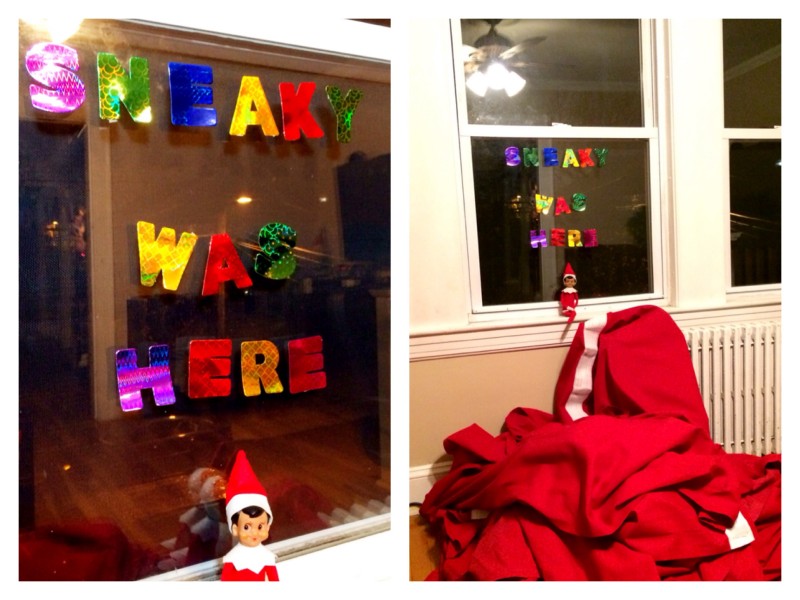 Night 5: Sneaky left a gift and a note from Santa under the tree, it was the new elf! I wanted another one to help Sneaky, we were very lucky that Santa had another scout elf looking for a home. Welcome, Mayonnaise!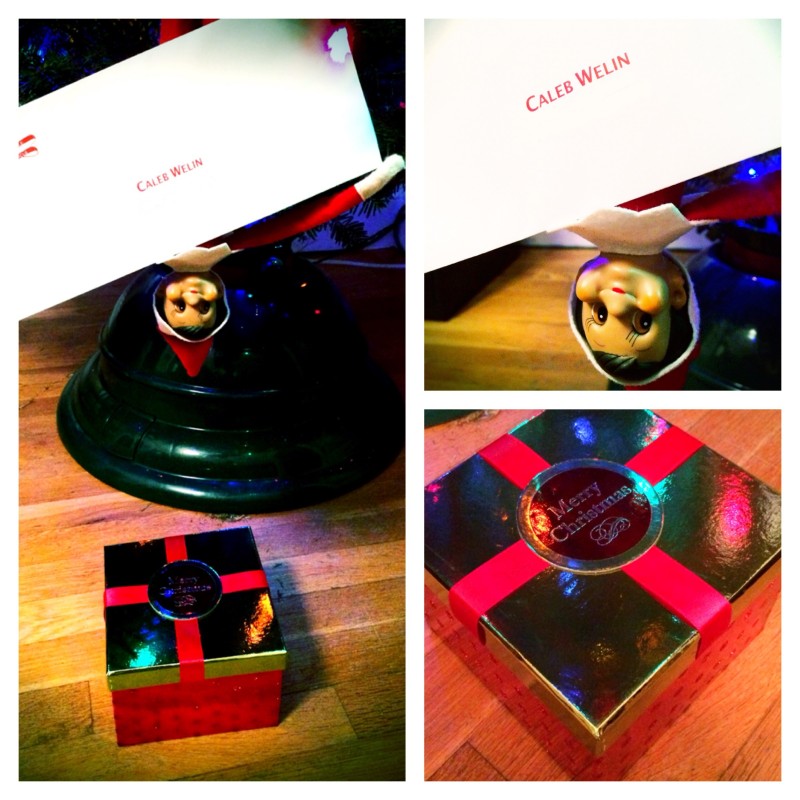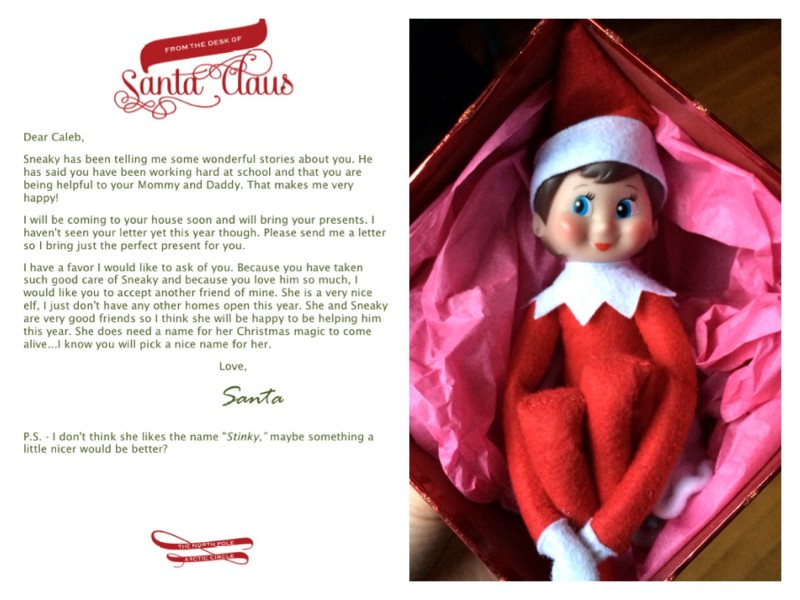 Night 6: The elves tangled with a spider and didn't come out on the winning side! I still hadn't taken this spider down from our door, it needed to come down and we had some fun with it.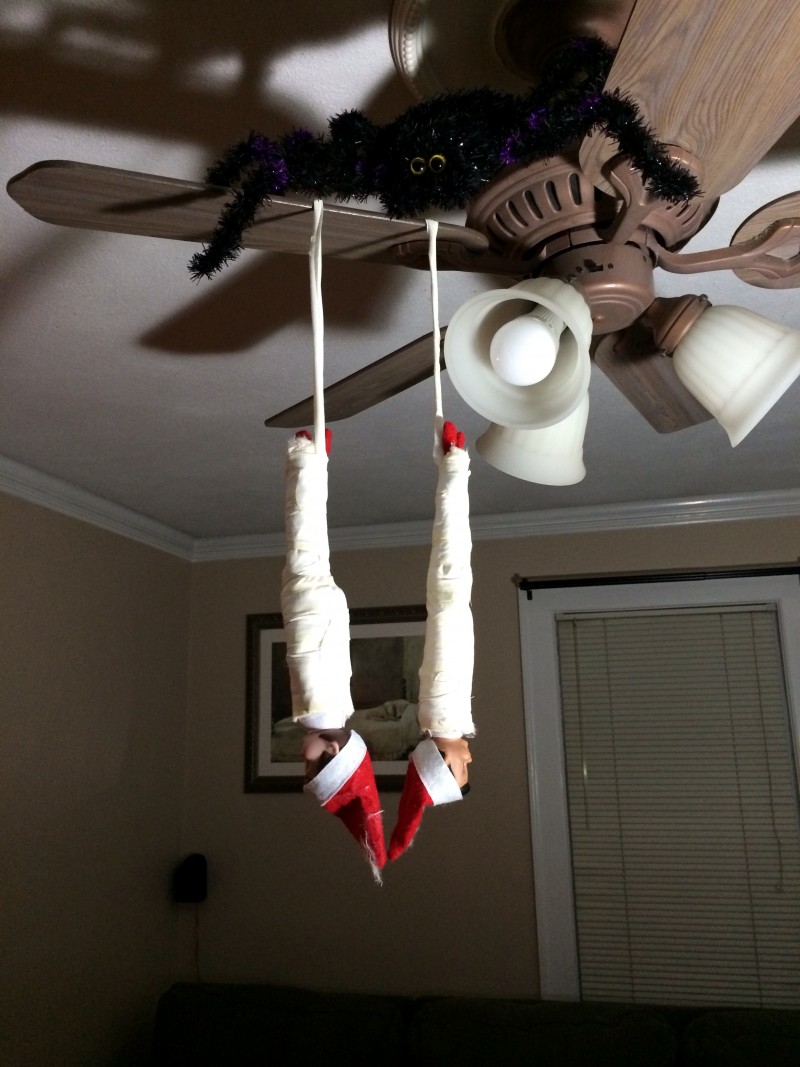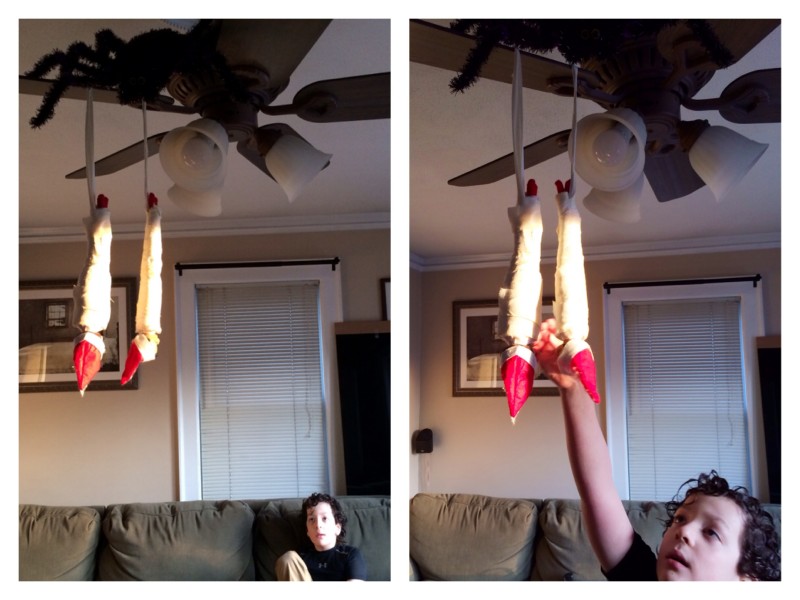 Night 7: This is pretty straightforward. It's actually a toy from Grampa that Caleb cannot use in the house, it's super, super fast! It had been collecting dust for a couple weeks I guess it just looked like too much fun to let go to waste.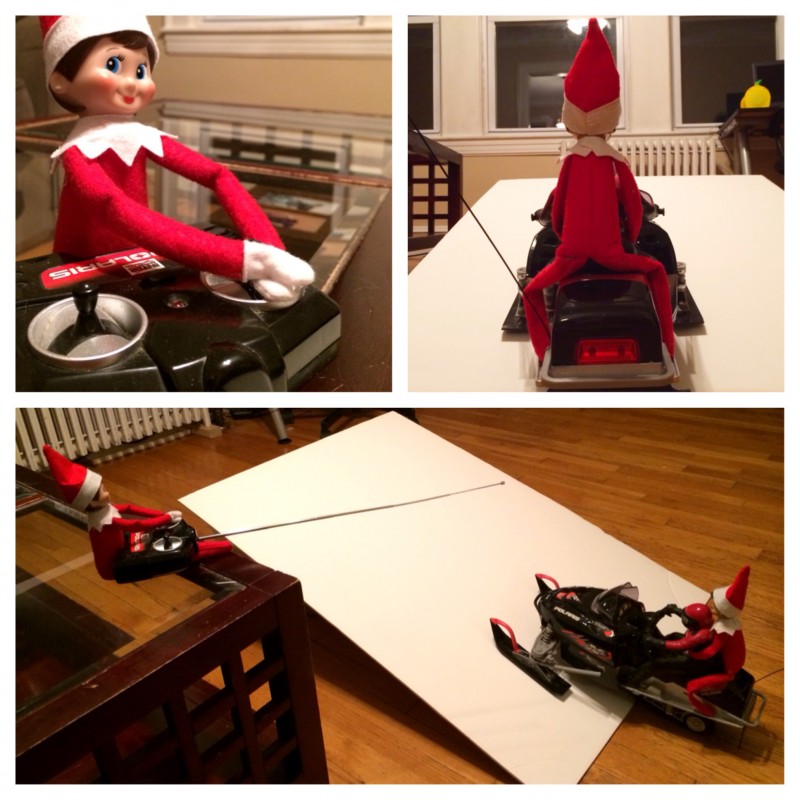 Night 8: Caleb had broken a house rule and went down in the basement, alone, and poured bleach onto a load of clothing. The consequence was that there were no elf games that night. (Also, we finally put a lock that he can't reach on that door…)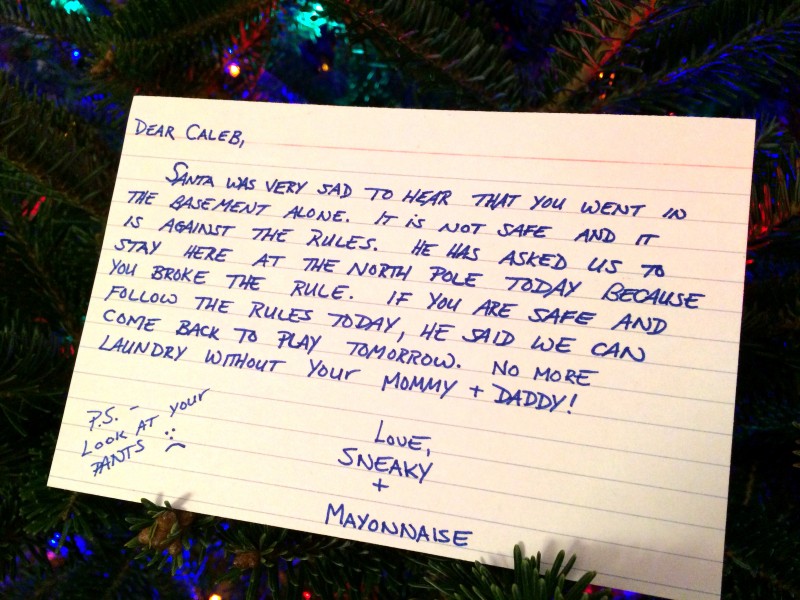 Night 9: Rudolph noses…totally not original, lots of people did it. Caleb was a bit mystified by it because he thought they were ladybugs on our noses. It was fun for me at least!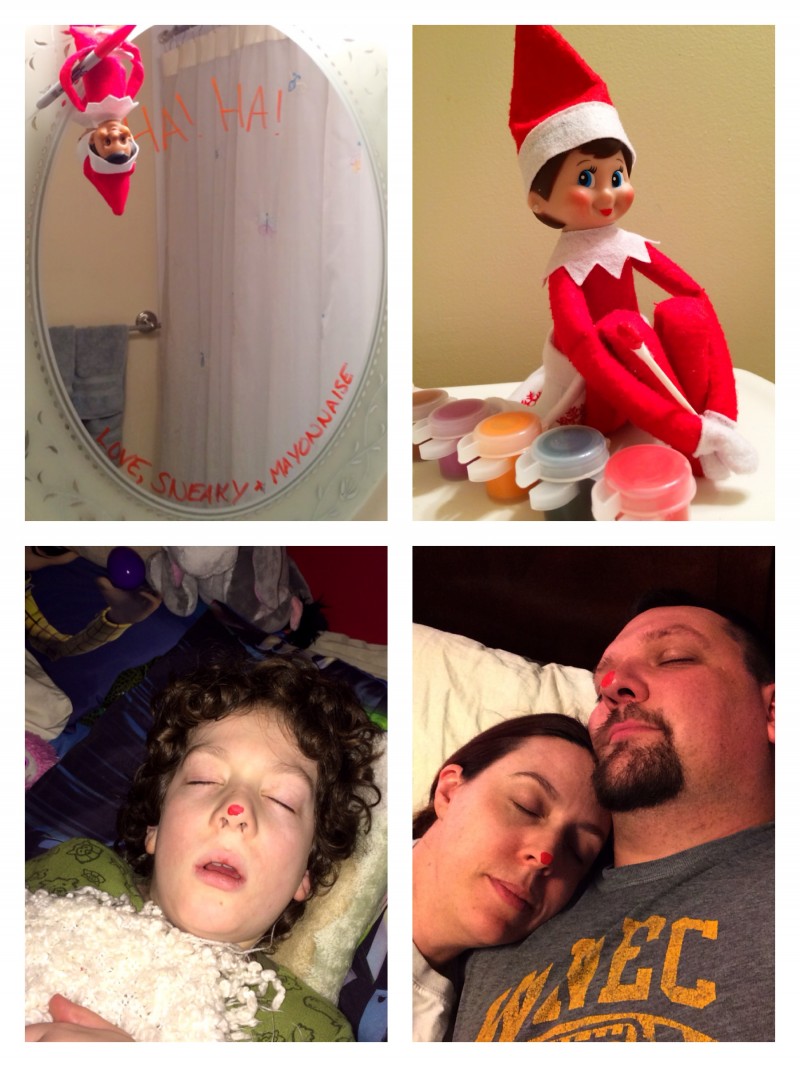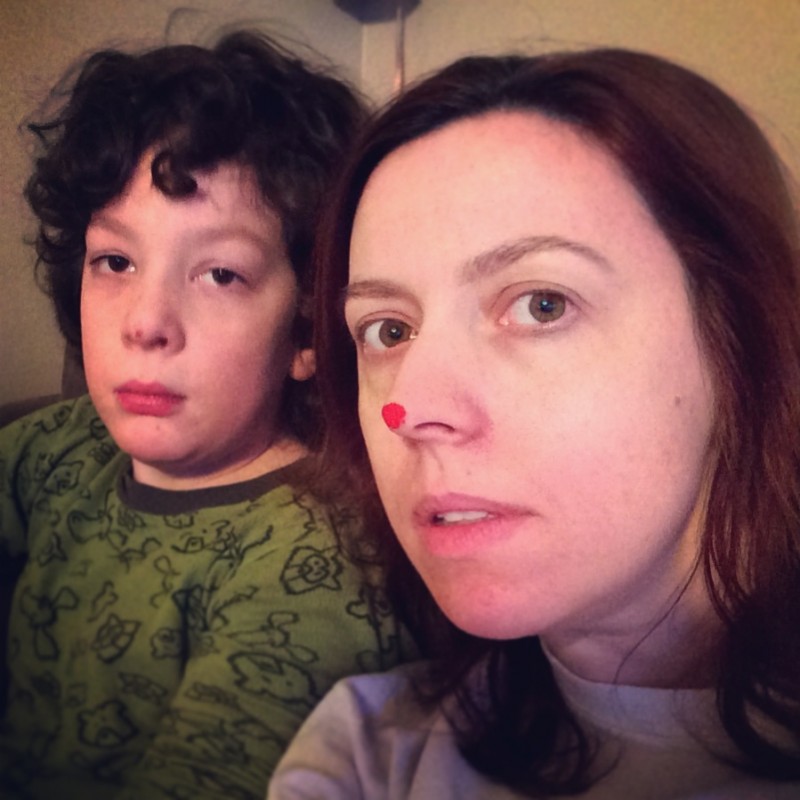 Night 10: Ah, paper football! We used to play this when I was a kid using a table and someone's hands for the goal posts. This is a piece of foam board we had in the basement and tissue paper. I used a silver Sharpie for the lines and numbers. The goal posts are black pipe cleaners (one for the post and one for the uprights) which were too flimsy to stand. I grabbed yellow bendy straws and slipped them over the pipe cleaner to help them stand, I trimmed them as needed. I also punched a hole through the foam board so part of the pipe cleaner is pushed through the board and secured with tape. This one about an hour start to finish.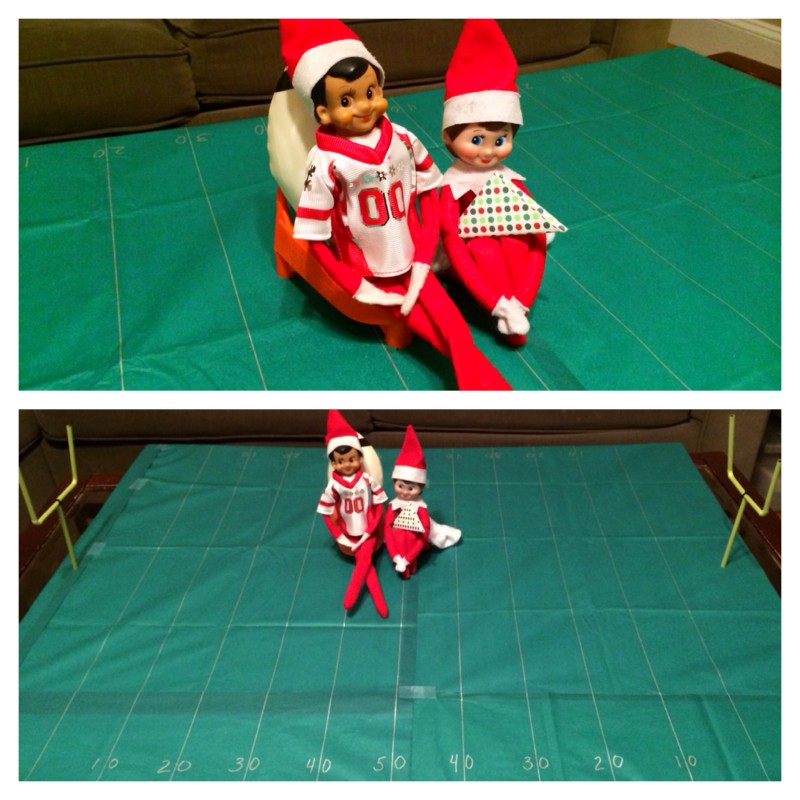 Night 11: Nerf guns! This was super easy and fun. I'd like to say we have some rule about not using nerf guns to shoot at people but I'd be lying. Santa seemed like fair game for the naughty elves.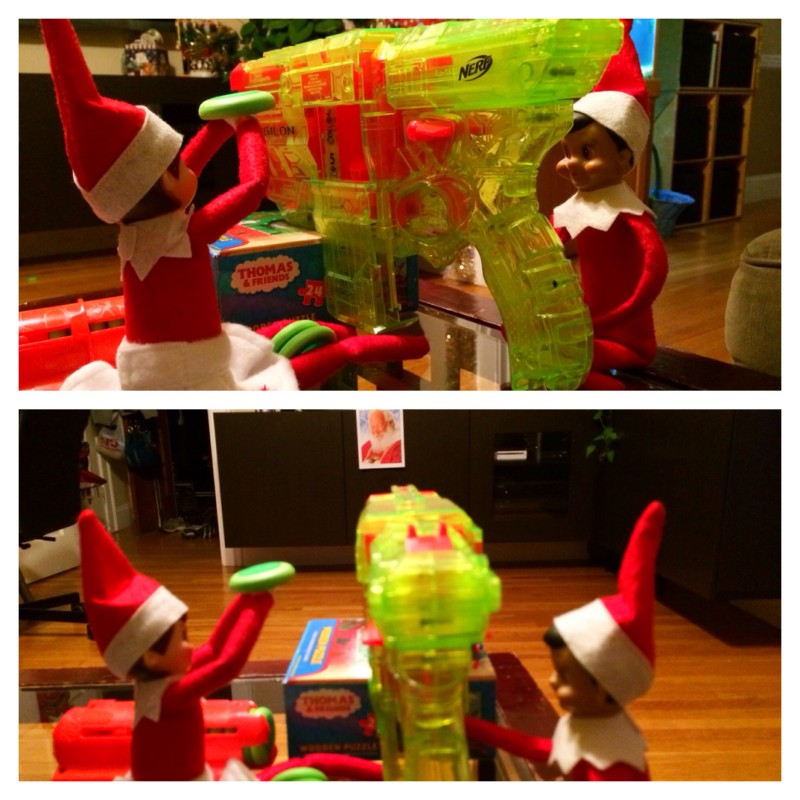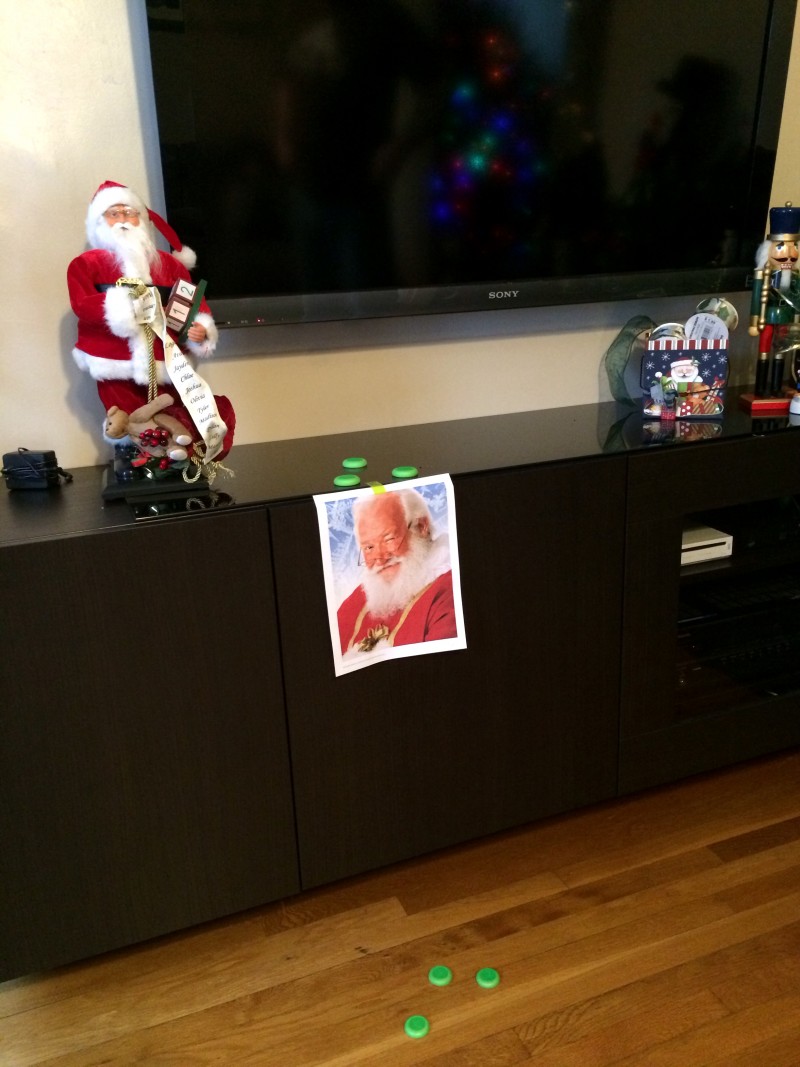 Night 12: The elves found ALL of the pieces for Caleb's marble run and set them up in a fun manner that allowed "marble races." Super easy and I knew Caleb would love it because it's one of the few "toys" he plays with.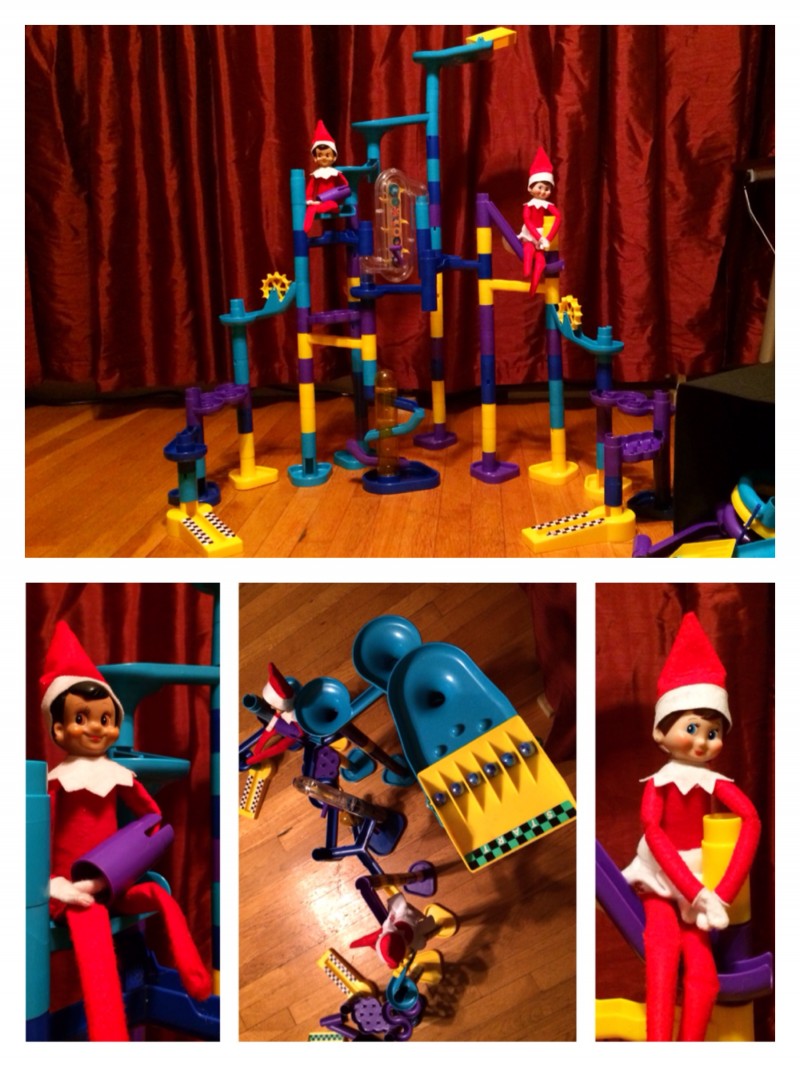 Night 13: It was time for the Halloween candy to go, we'll soon have tons of Christmas treats. It was nice of the elves to help us get rid of it. I would have preferred that they have skipped the powdered sugar, that was a mess to clean up.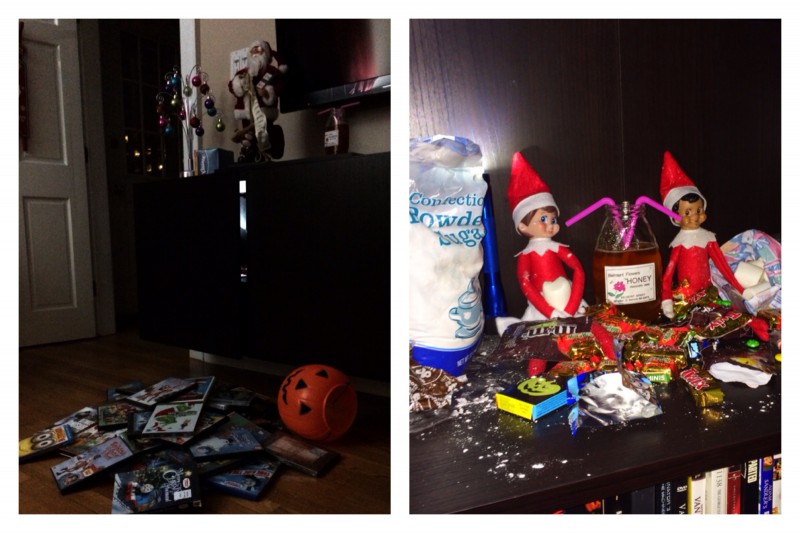 Night 14: Each of the elves sat at Caleb's desk and wrote a Christmas list, they left a blank copy for Caleb to fill out as well. He used it to write a bunch of random words and he continues his pattern of refusing to tell us what he wants. He did mention $10, done.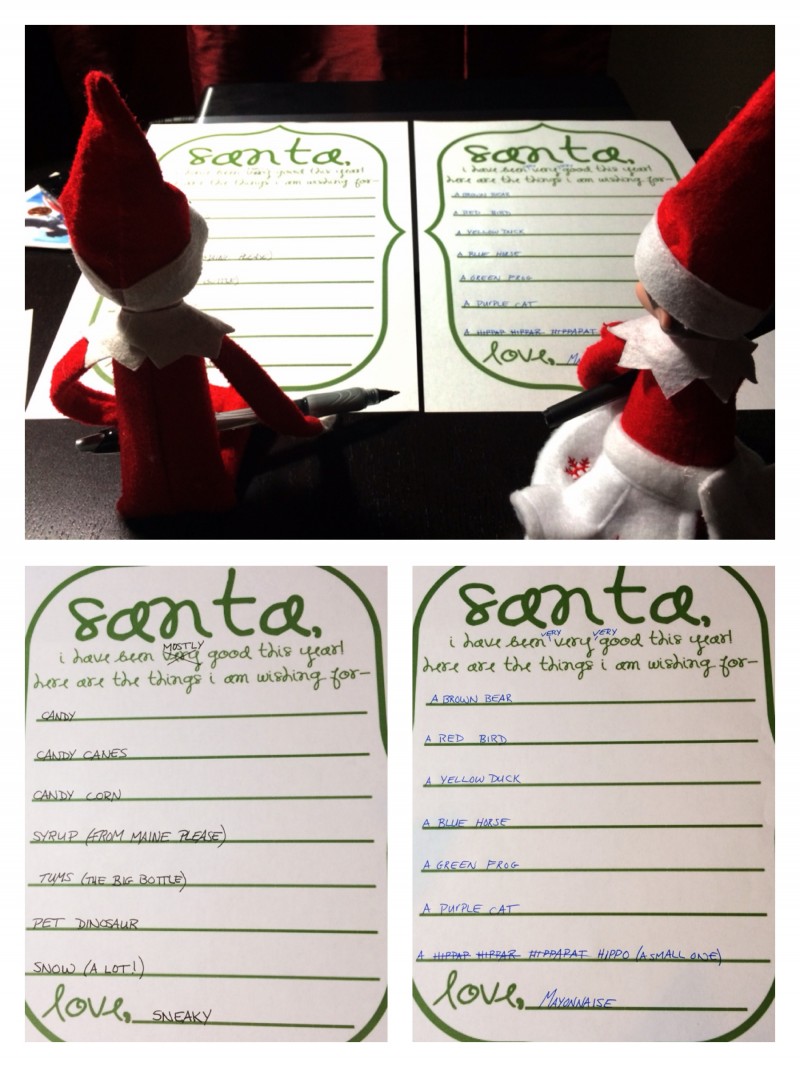 Night 15: I've seen elves toilet paper the Christmas tree or an entire room. It's cute! I didn't want to clean it up. Luckily Mayonnaise caught him and crated him to stop the rampage short. He only had a chance to do a couple of streamers. That puppy crate is the one we had for Tucker when he first came home, it was so small Sneaky couldn't stand in it! It's hard to believe Tucker was ever so tiny!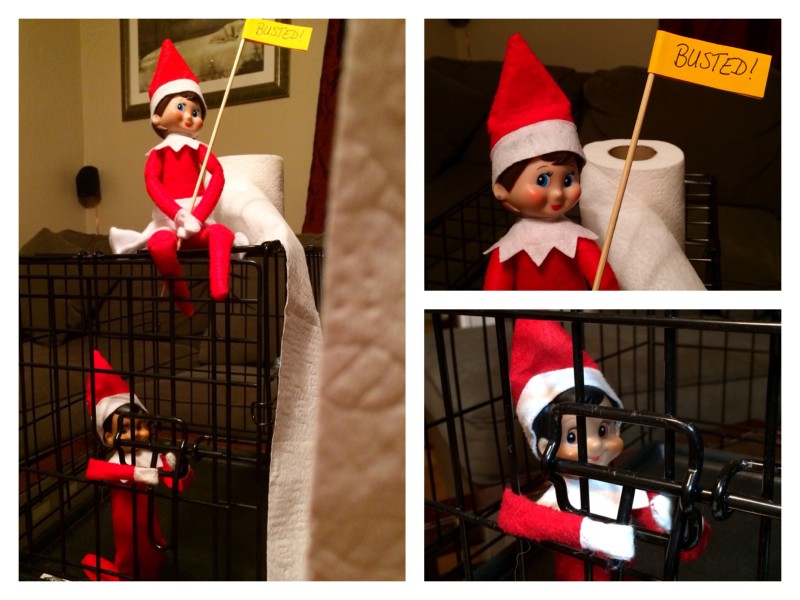 Night 16: Easy peasy, camping under the Christmas tree. This is an example of just winging it when my initial plan failed. I tried to build a tent but after an hour of working on it, it just wasn't coming together.  The "sleeping bags" are actually big bandages from Grampy's cabinet, I could have used socks instead. A tip, roasting a marshmallow, even those small ones, over a candle takes way more time than I was willing to spend. I used the gas burner on the stove to speed this up. Another tip, don't stick marshmallows on a wooden stick into the flames of a gas stove burner on high…they will IGNITE. Whoops. The sticks are wooden skewers Eric uses to cook veggies on the grill in the summer.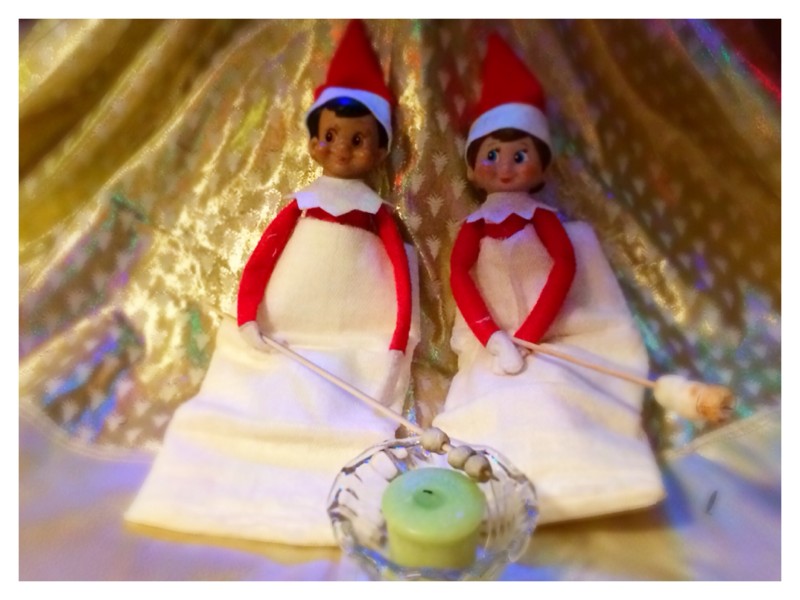 Night 17: The elves had a couple cans of fake snow, this still isn't quite cleaned up…it's really messy! And Caleb was unimpressed because we got our first real snowfall of the season overnight so the real stuff totally trumped the fake. It sounded good at the time?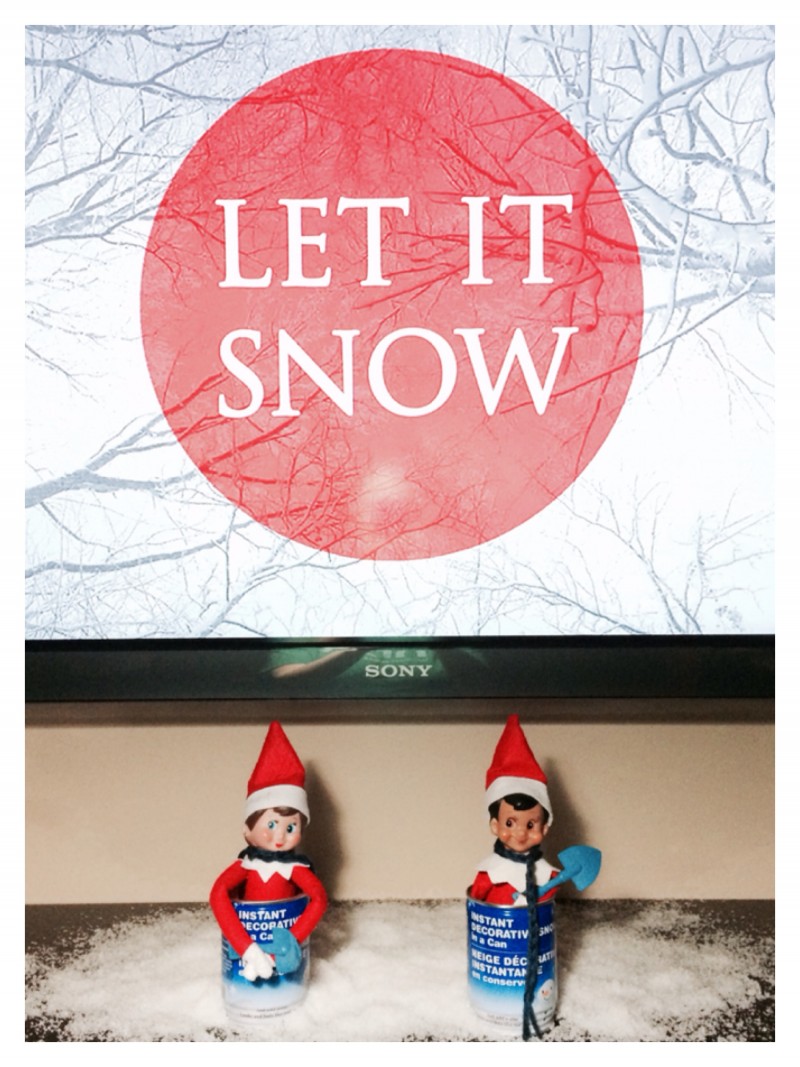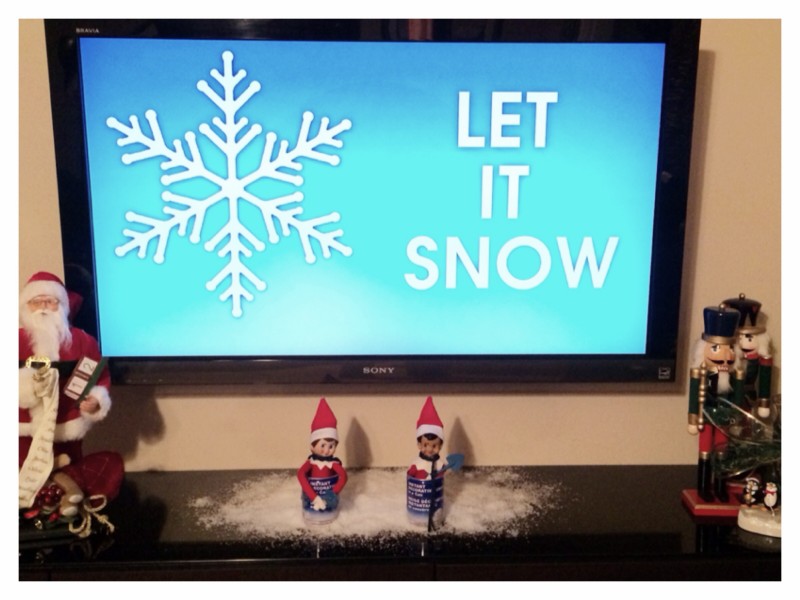 Night 18: We turned our ceiling fan into a carnival ride! Twine and paper towel/toilet paper rolls make up the "swings," I used Command hooks on the tops of the blades to secure them, I didn't want to have to clean them to get tape to stick! Creative posing and double-sided tape is keeping the swingers in place…even at high speeds though we set it very, very low once Eric and I were done playing with it. This was pretty finicky, worth it but don't expect to finish in 10 20 30 60 minutes!
[I have video of this one! That I will share as soon as I figure out how to rotate it so you don't have to bend your neck to view it!]
Night 19: Wii! We hardly use this anymore which is a shame, Caleb likes it but we never think to suggest it. Caleb did NOT see the picture of Sneaky knocked out, that was just for grown-up amusement. He turned off the game and stole the popcorn as soon as he got up. Yay, no need for breakfast that morning!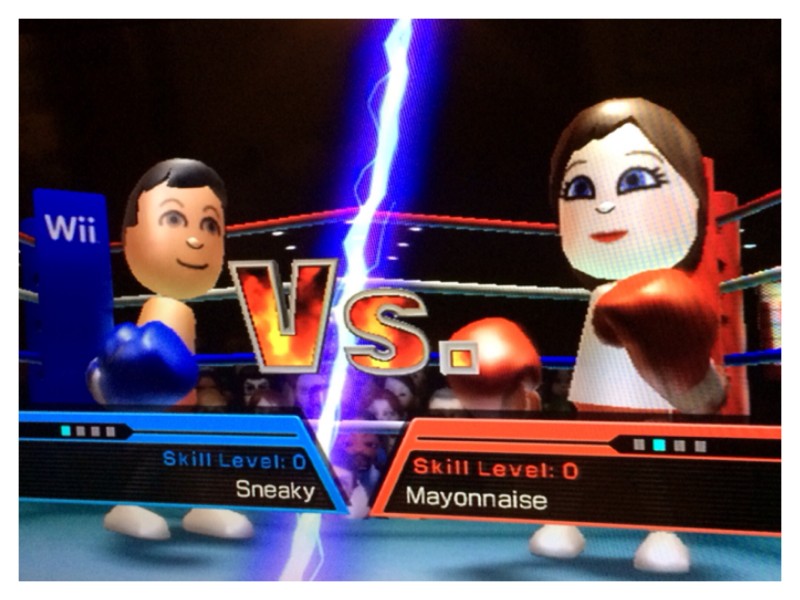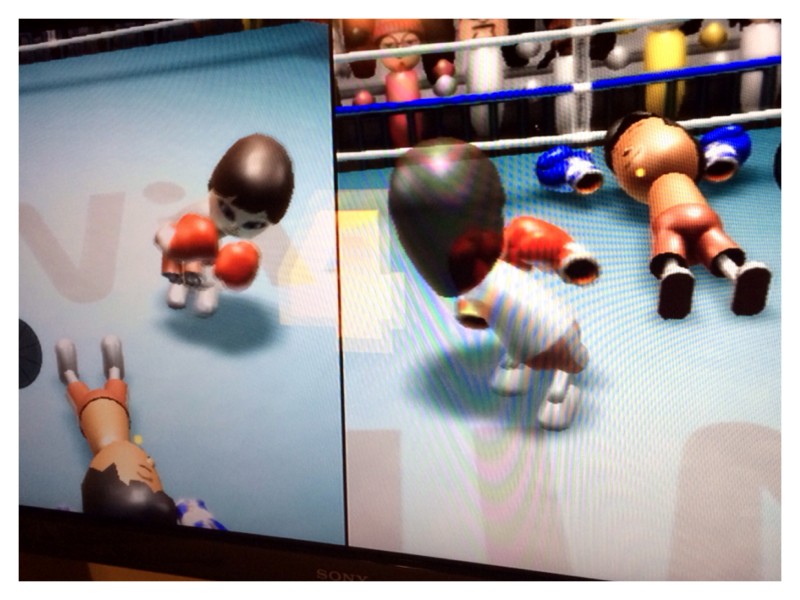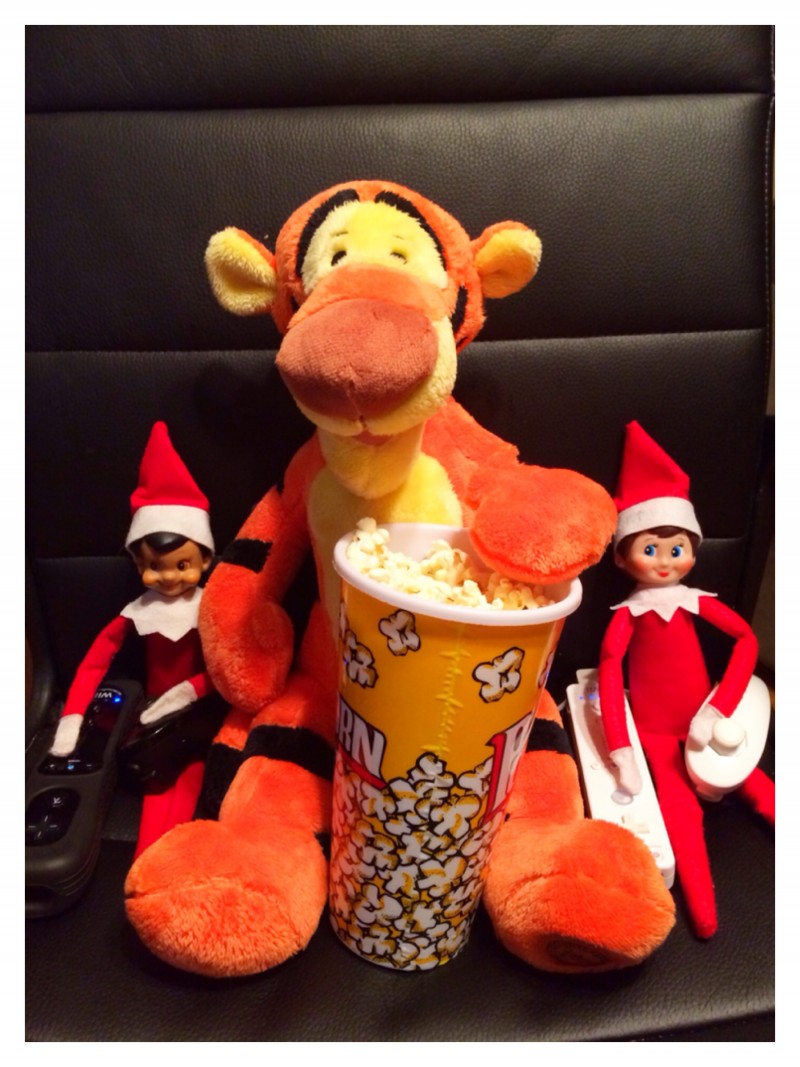 Night 20: Story time! I thought Caleb might find this one boring but it looked sweet and peaceful. There was a new book involved. He was a fan.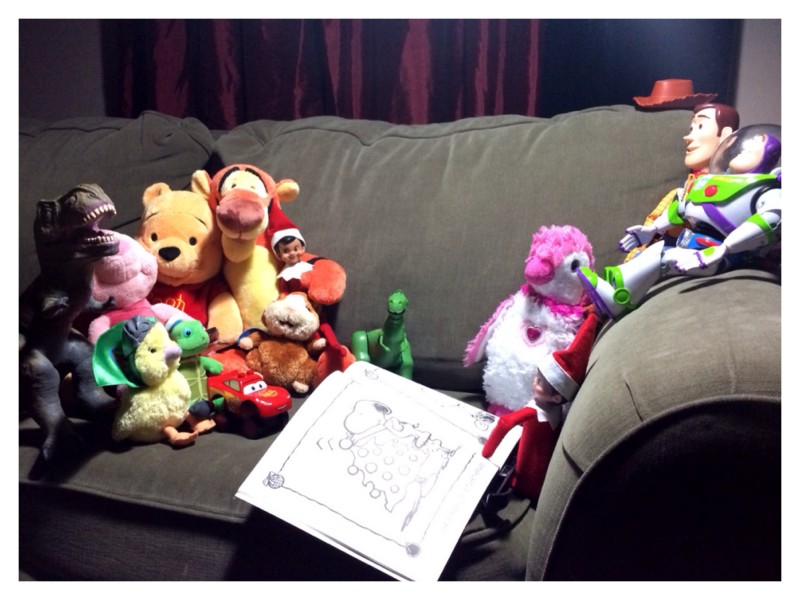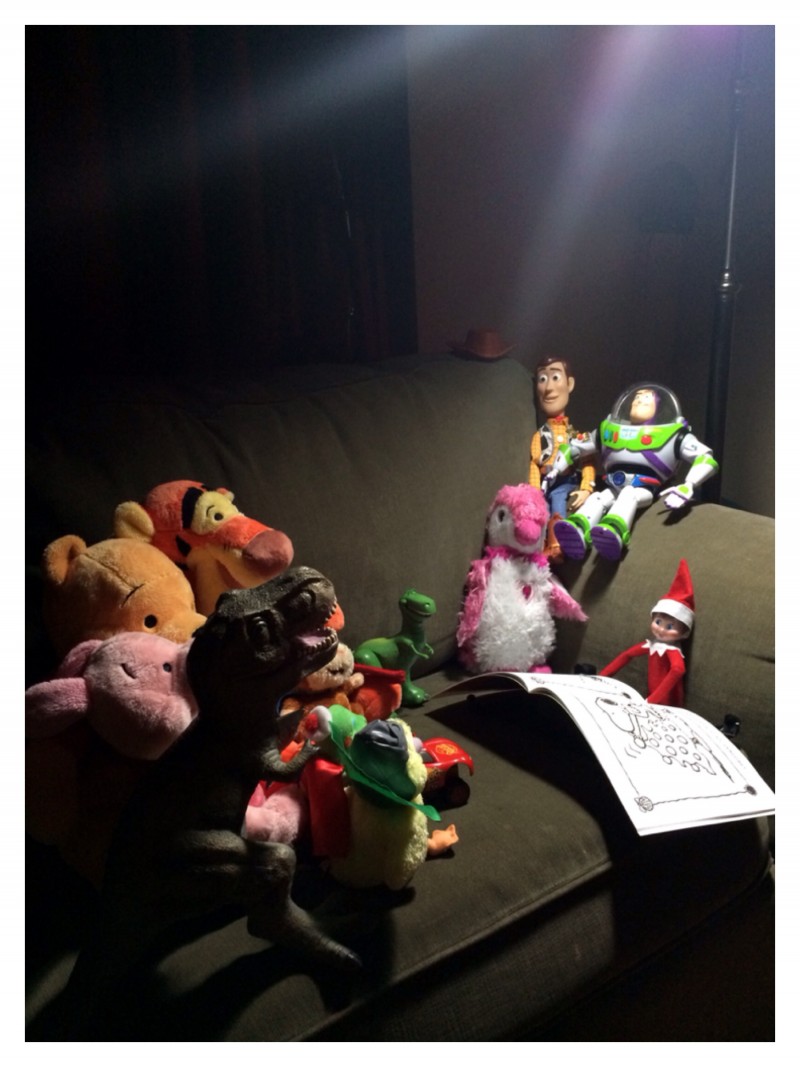 Night 21: The elves found our stash of gifts. Each year we give Caleb a new pair of PJs and two ornaments to open on Christmas Eve. This year, he got his ornament a little early. We still have the PJs and the family ornament for him to open on schedule. Early present…do I even have to say that Caleb loved this one??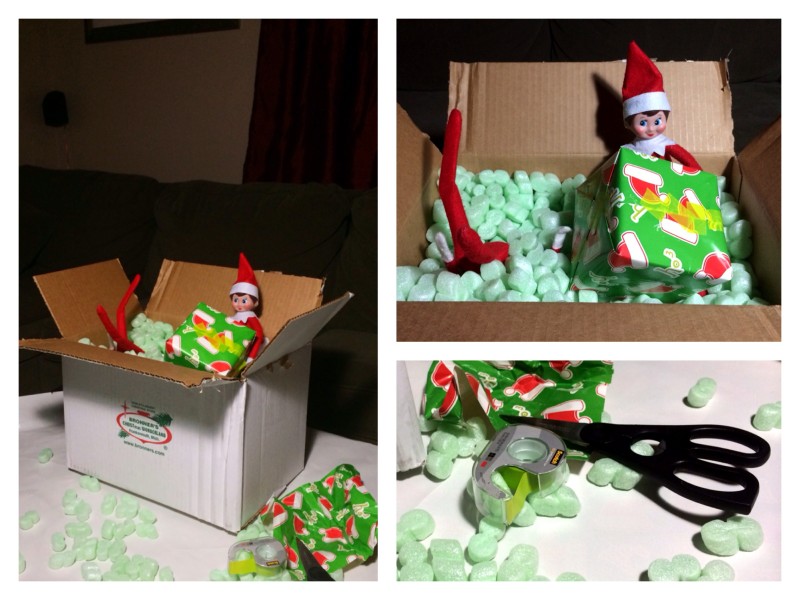 Night Twenty-Two: Sneaky and Mayonnaise were short on time but this was a hit with Caleb! He insisted on crawling in and out of his room so we didn't have to take down the streamers.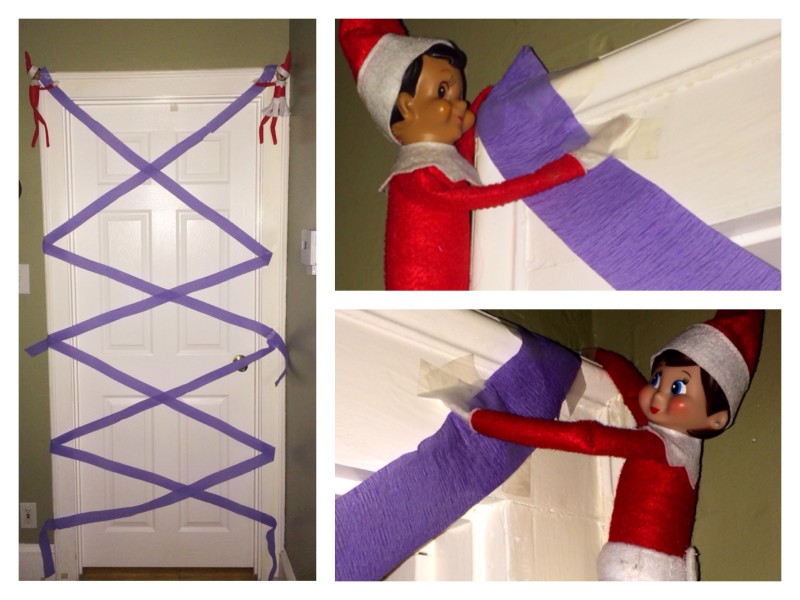 Night Twenty-Three: Sneaky and Mayonnaise delivered a message from Santa! I love, love, love Portable North Pole! It took about 10 minutes, most of which involved me trying to upload it to YouTube so I could share it.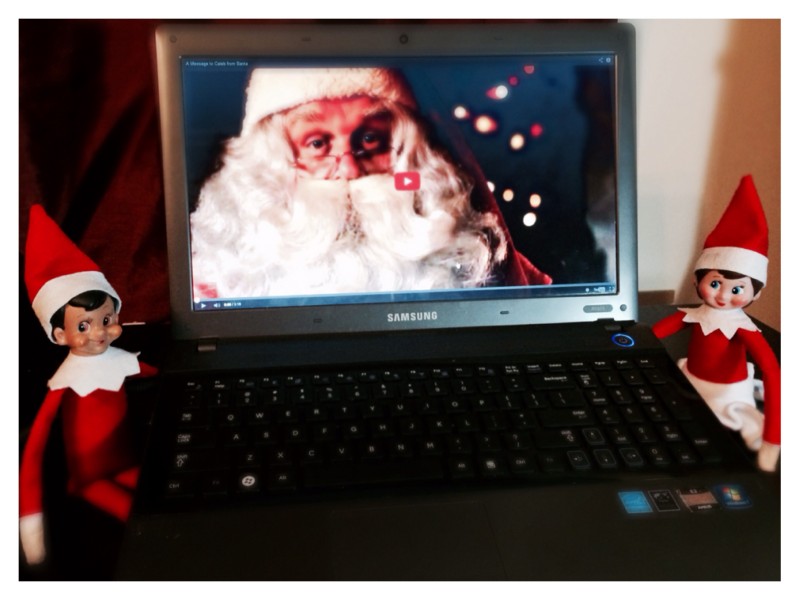 Night Twenty-Four: Sneaky and Mayonnaise made heart-shaped cinnamon rolls (from a CAN *gasp*) They would have been prettier if I'd made them from scratch but…no. That wasn't happening! My from scratch cinnamon rolls have to rise overnight and I am NOT getting up at 4 AM for this. Caleb enjoyed the results regardless…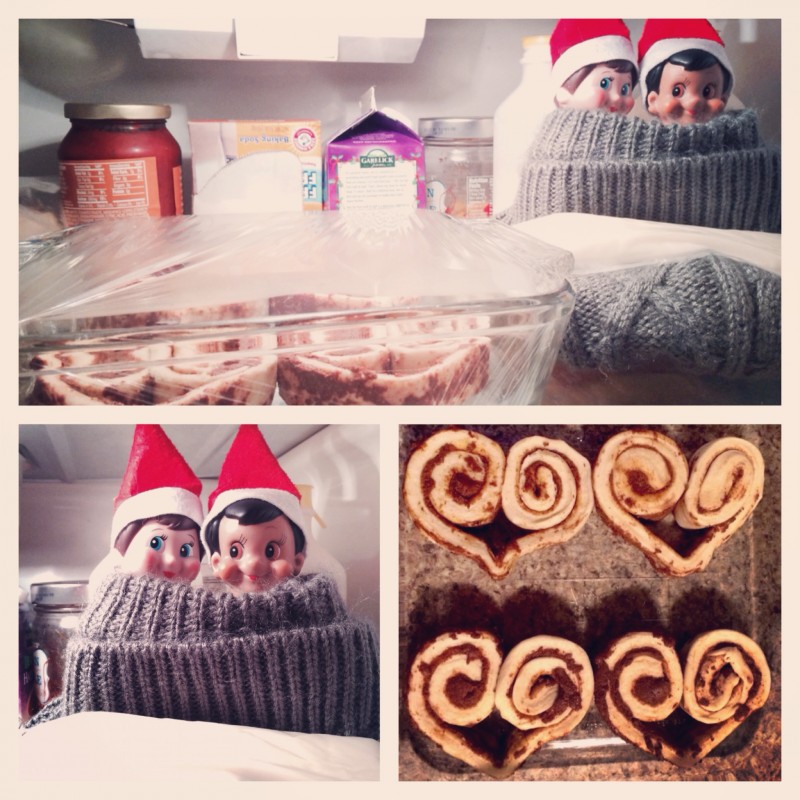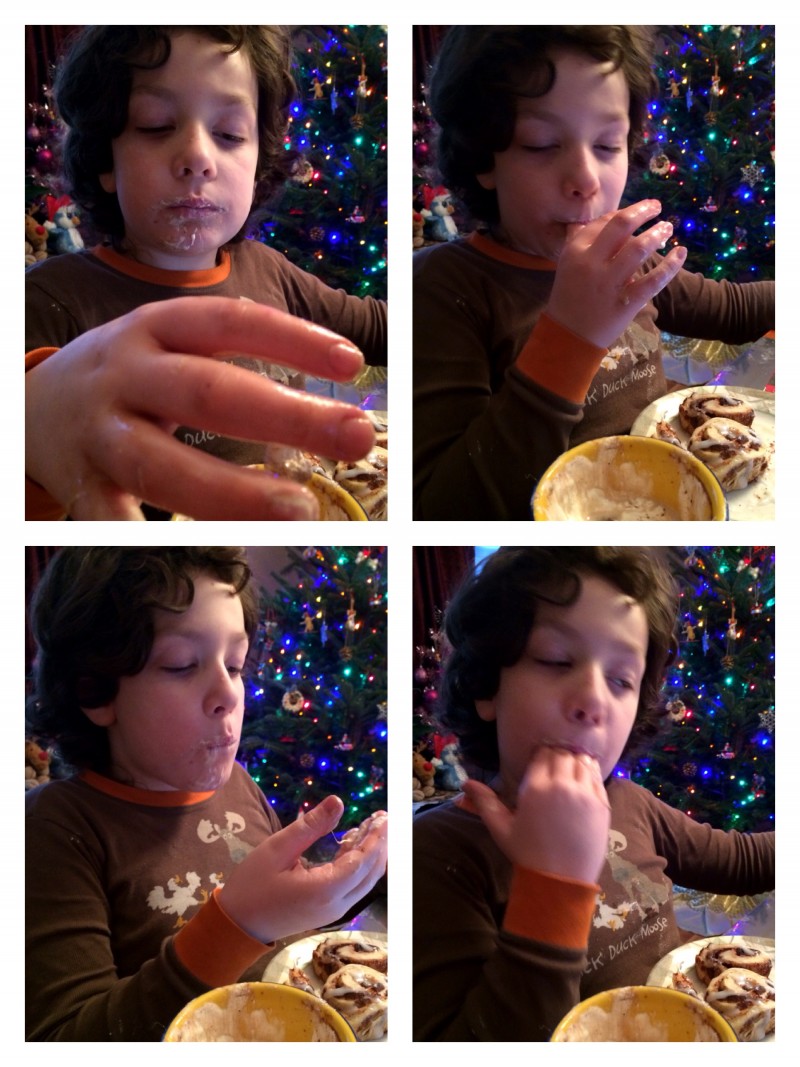 Night Twenty-Five: Sneaky and Mayonnaise decided the living room wasn't quite festive enough! My husband hurt my feelings and called me a crackhead for this one. It looks over the top, but it was super cheap (cheapest bows money can buy at Target) and it took about an hour. It didn't *need* to take an hour but I'm a little bit OCD so I spent a lot of time on patterning and color distribution. I know. But it looks so PRETTY!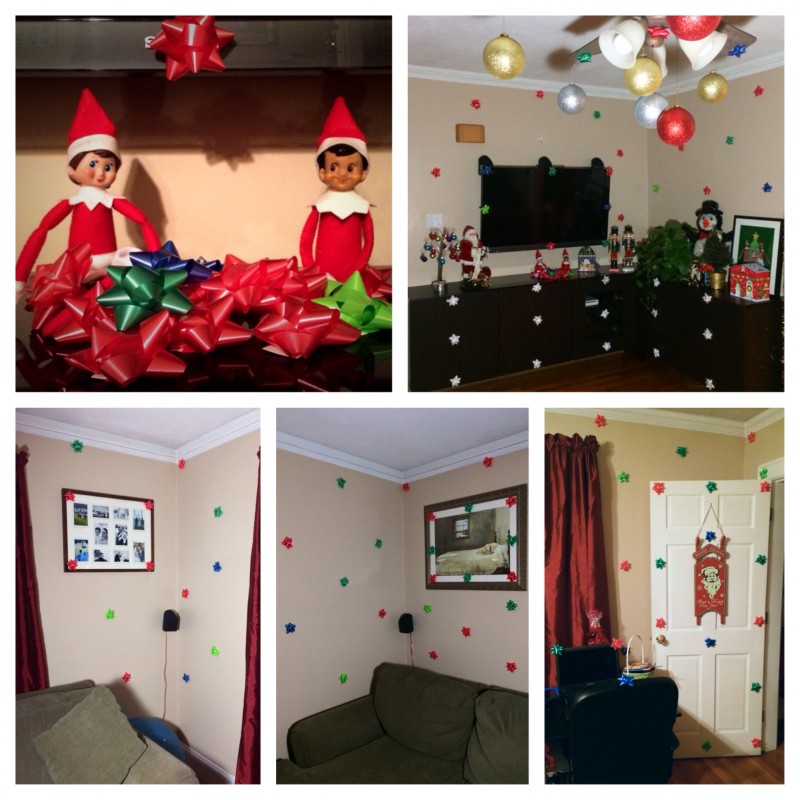 Night Twenty-Six: Sneaky and Mayonnaise had a silly string war overnight! They were nice enough to leave 3 cans out so Eric, Caleb and I could have one too this morning.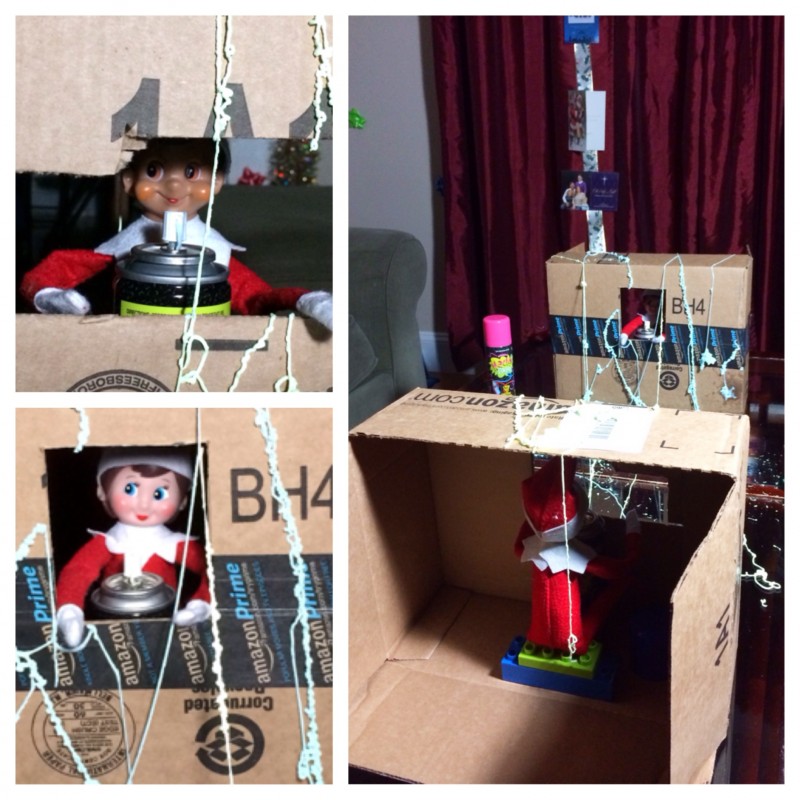 Night Twenty-Seven: Santa was here! Caleb was enthralled by these pictures taken in our dining room that the big man left behind…