When we were at the conference we purchased an indoor swing. Monkey loooooves to swing so we'd been considering one for a while. One look at the "special conference pricing" and we were sold. Over a month and many, many frustrating phone calls later ((and finally a fraud report to our bank)) and we were the proud owners of this: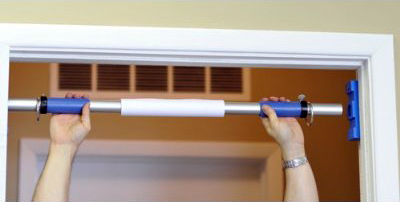 Not terribly exciting on it's own but when you add the strap swing, the trapeze bar AND the net swing. Oh, baby! Unfortunately, Monkey didn't see anything terribly exciting about any of it, it seemed. I really and truly thought he'd love that net swing. I sure do! It gives great all around pressure on your body while you swing, it was perfect!
We put it up and, except for the times I used it, it hung forlorn and neglected in our doorway. This was what I was fearing would happen, to be honest. It never fails that when we find something we think Monkey will loooooove and convince ourselves it's a good way to spend our hard earned pennies; he hates it…or at least is entirely indifferent to it. It's frustrating.
So, I left that net swing up for a long time. I used it and was able to get Monkey to use it for a few seconds at a time while sitting in my lap but he wouldn't use it on his own. The final straw came yesterday when he played with it briefly without actually getting in it and knocked himself down. He was fine but he was shaken up and I knew he wasn't going to even look at it for a while. FINE. I put the net swing in the bag and, on a whim, hung the strap swing in it's place. Monkey was not a fan at first. He  was used to seeing the net swing hanging there by this time and wanted me to fix it. I told him no, the strap swing is staying put for a while.
Not 5 minutes later, he was in that swing…swinging. And just like that this overpriced piece of metal, that I was beginning to resent, has become a source of total joy. If I ever manage to get him to use it while wearing something other than a pair of Buzz Lightyear underwear I'll even let you see.