After a brief flirtation with Chuggington, Monkey is, once again, obsessed with the Penguins of Madagascar.   This makes me very happy because those pen-gu-ins ((in my best Dr. Blowhole voice)) are hysterical.  Duhdee and I quote them.  A lot.
Monkey also quotes them.  A lot.  Right now his favorite episode is "Hard Boiled Eggy."  We hear a lot of "Mort!" and "My eyes!"  Personally, I can't wait for him to break out the "I want to fight some Ninjas in a chain saw factory!"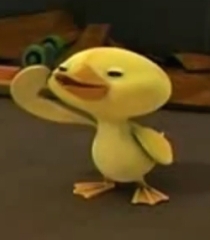 We've all heard about turning the child's interests into a strength, that we should find ways to incorporate their interests into educational opportunities.  Here's the problem…I'm not that smaht.  OK, I am that smart, I'm just not that CREATIVE. 
I'd love to hear ways people have used this sort of thing to create learning opportunities.  Right now I'm just grateful for all the vocabulary he's learning but it would be nice to find ways to use it for other things too.  Exactly "what" those other things are is my problem and so I throw it at the feet of my internet peeps and hope ya'll are more creative than I. 
Not that thatis such a great feat, lol.